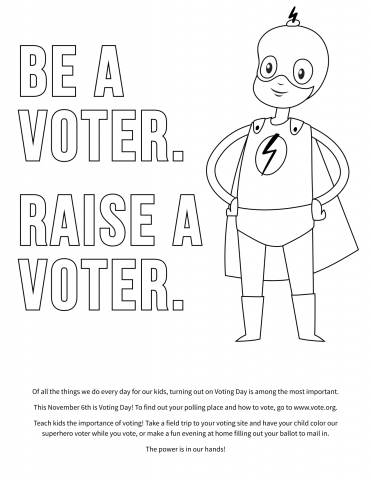 Free Coloring Pages for Kids Waiting in Voting Lines!
KIDS! This post is for you (and your parents and caregivers)! Have the adults in your life finally listened to you about voting? CONGRATULATIONS! Sometimes a reminder from a kid helps grown ups figure out what they're supposed to do-- and to do it!
Thanks to all your gentle and wise reminders, the adults in your life are: 
Making a commitment to vote
Planning their next steps:

Ensuring that they're registered to vote
Finding out where their polling place is
Figuring out how to get to the polling place (with the right ID, if needed) and get you to school, get themselves to work... OR get everyone to the polling place together!
If you're a lucky duck and get to accompany an adult to the polls, you can be in charge of reminding them to print out coloring pages for you to work on while you all wait. Remember, the longer the line, the BETTER it is because that means more adults are doing their part to vote-- and one day you can, too!
Download English coloring page
Descarga página en español para colorear
Thank you for leading the way and helping your adults understand how important it is to VOTE!