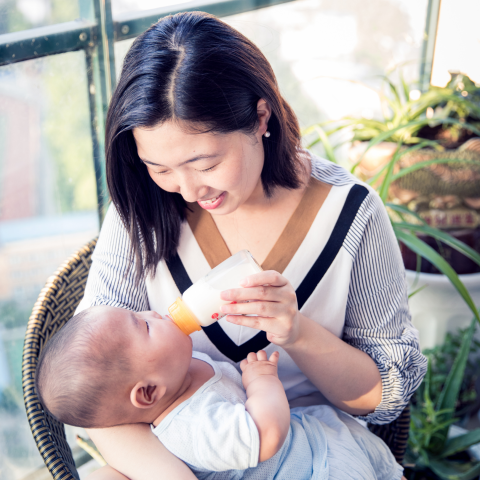 Formula update: The bottle is starting to look half full.
Due to a historic recall of some forms of baby formula, there is now a nationwide shortage of formula and it's a very big deal, reaching a crisis point for many families.

(¿Busca información en español sobre la escasez de fórmula para bebés? MamásConPoder la tiene. Haga clic aquí.)
Here's what's going on: In late-February the FDA announced the largest recall of baby formula in recent history after two babies died and four infants tested positive for a dangerous bacteria after consuming certain brands of infant formula. [1] The recall led to a massive shortage of popular baby formula brands around the country, leading some retailers to start rationing the amount of formula parents can buy. [2] It's being reported that nearly 40% of popular baby formula brands, including Similac, may be sold out at retailers across the country. And I can tell you from personal experience, I haven't been able to purchase my formula in a store in over a month!
This is a major problem! This is akin to the toilet paper shortages we saw during the start of COVID but with much larger consequences. While hundreds of thousands of families are impacted by this issue, those with medically fragile children [3], families in rural communities, and those on WIC [4] are having a particularly difficult time—some driving to other states or having to pay sky-high prices on the internet just to secure their baby formula.
But some positive steps have been taken this past week: 
The Biden Administration has announced three steps they are taking to help with the shortage, the details of which can be found here. 

The House of Representatives Appropriations Committee has announced two hearings on the baby formula crisis.
This is all a great and encouraging start but much more needs to be done and on a very fast timeline since millions of families are impacted by the shortage. MomsRising is in constant contact with our elected leaders and the agencies overseeing this crisis.
I know how stressful the formula shortage can be. As a mom, it's so upsetting to not be able to provide my son with the nutrition he needs and while switching formula is an option for us, that takes time and is also stressful. But there are four things you must make sure NOT to do during this crisis:
Do not dilute the formula—it's called formula for a reason. The recipe on the back of the can provides your baby with the nutrients and vitamins she needs to be healthy. Diluting it messes with that formula.

Do not make homemade infant formula. Unfortunately in the absence of easy to find baby formula, there have been homemade recipes popping up on the internet. This is incredibly dangerous! Do not use them. [5]

Do not feed your baby cow milk before the age of one. Before the age of 1, cow's milk can put your baby at risk of intestinal bleeding. It also has too many proteins and minerals for your baby to handle and does not have the right amount of nutrients your baby needs.  [6]

Do not use the recalled formula. As we mentioned, a number of children have already gotten sick and tragically two babies have died so it is absolutely unsafe to use the recalled formula.
I do suggest that you call a store before you drive over to double check that they have your formula. Ask your mom/parent groups and network if anyone has any cans they can donate to you or you can buy from them. Check with your healthcare provider before switching formulas. And if you are having trouble affording formula or need re-lactation advice, you can always reach out to your nearest WIC office. 
One action you can take is to share your story with MomsRising on how the baby formula shortage is impacting your family. We want to share these stories with elected leaders and the CEOs of baby formula companies so they know exactly the impact this situation has had on families across the country.