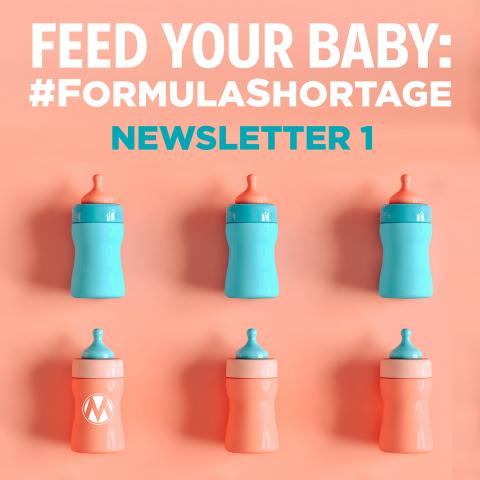 Formula Shortage Newsletter 1: Feed Your Baby
Here is the first Feed Your Baby: #FormulaShortage newsletter. We know this is a very stressful time for so many parents trying to find infant formula for their babies - and we are here for you as part of your support team. Check out the below update and resources you can use!
Update on government action on infant formula:
Giant thank you to everyone who has been raising your voices about the need for strong action to address the formula shortage.  Your voices are being heard!  In the past week there have been a number of pro-active moves by the Biden Administration and Congress to address the formula shortage. Here is a run-down of what is happening:
Actions you can take:
Share our #FormulaShortage Social Media Toolkit: We pulled together a bilingual social media toolkit to educate and meet families where they are to provide information and resources on maintaining food security for their children, as well as collecting stories on how this shortage has affected families. You can find the full toolkit here.
In this toolkit you will find sample language and images that you can share on Twitter, Facebook, and Instagram. We encourage you to use this toolkit to help us share how to best keep our babies healthy and fed during this crisis and to help combat some of the misinformation out there on the internet targeting parents (like that it is safe to use homemade formula…which it is NOT!).
Share your story: It's being reported that nearly 43% of popular baby formula brands, including Similac, may be sold out at retailers across the country. Are you one of the families struggling to find formula for your little one? We want to hear from you! Share your story with MomsRising so we can understand what's going on across the country with the baby formula shortage and share your experience with leaders in our government tasked with making changes so this type of shortage never happens again. You can even share anonymously if you want. Share your story here.
All of this information will also be available on MomsRising's blog but if you have any friends who also would benefit from this information have them sign up for our formula updates here. 
Let us know if there is anything specific you would like us to address in our next newsletter.