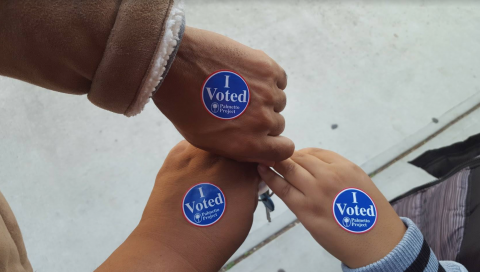 For Hispanic Heritage Month, Latinx Are Registering To Vote!
Hispanic Heritage Month is here! From September 15th to October 15th, the nation celebrates the culture, heritage and contributions of Hispanic and Latino Americans. This year, MamasConPoder, our Spanish speaking community is kicking off this month-long celebration with a powerful mission: Registering Latinx to vote! 
There are approximately 27.3 million eligible Latino voters in the United States. Sadly, 41% of eligible Latino voters did not vote in the 2016 presidential election. It's time to change that statistic!
During Hispanic Heritage Month, we want to create awareness about some of the reasons why Latinx such as Puerto Ricans, moms, millenials, immigrants and first-time voters #Can'tWait2Vote. Their stories will be featured every Friday on MamásConPoder Instagram account and MomsRising blog. I hope you join this fiesta with us!
Meet Frances, a boricua living in South Carolina
I am so thrilled to start our #Can'tWait2Vote series with Frances. This Latina mom shared her story about how Hurricane Maria affected her family and friends and why she is asking other Puerto Ricans to register to vote.
Frances shares the frustration of our fellow American citizens in Puerto Rico about the government's negligence to help faster after María. "Our island is completely destroyed. The assistance provided by the federal government was almost non-existent and created more havoc for the people."
She organized a hurricane relief mission trip to Puerto Rico to help with the recovery efforts from Hurricane María.  
Why you #CantWait2Vote? 
The United States Constitution starts with the line: "We the people." Thus, we have the responsibility to exercise our right to vote. I invite all boricuas that live here to register to vote for this elections. Let's show them that we have a voice and that we are going to use it. 
One More Thing that You Would Like to Add...
Go vote and take a friend, a neighbor or your family with you! And take your little children, too. Don't forget to register to vote!
Don't miss our first #CantWait2Vote Instagram series here, here, here and here.
Ready to help get out a massive, energized, ready-to-change-the-world #MomsVote for the crucial November elections? Make a donation to MomsRising BEFORE midnight Sunday, Sept. 30th, and we'll send you a limited-edition #CantWait2Vote button. Wear it proudly! Show everyone your plan to be a committed voter, and inspire others to vote, too!