Tweetchat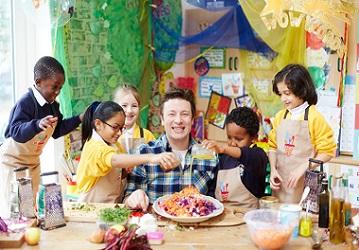 #FoodFri Tweetchat: Food Revolution and YOU!
With one week to go until Food Revolution Day 2014, we want to spread awareness of how to get involved on the day! Join us this #FoodFri to discover what Food Revolution initiatives have been planned across the world for 16 May.
Join @MomsRising, @FoodRev and @crunchacolor on Friday, May 9, 2014, on Twitter between 1-2pm, EST to discover, and share, how schools, communities and families will be celebrating Food Revolution Day and why they believe keeping cooking skills alive is so important.
Food education and cooking skills can help save lives; and every one of us can make a difference. With a large focus on getting kids involved this year, we'll be asking for tips on how to encourage children to become excited about food. So join us! We're excited to hear your opinions, and ideas, surrounding better food education for future generations!
To join and follow the conversation on Twitter use the #FoodFri Hashtag in each tweet.
You can also follow the chat on Twubs.com/FoodFri. Twubs allows you to follow MomsRising's registered hashtags by creating an account. Below I have noted the steps.
Create an account using an email or your Twitter account.
Enter the desired hashtag, #FoodFri, #WellnessWed or #EcoTipTue, in the search box found at the top of the page. Click Enter. A new page will open with the desired chat.
Find the "Join This Twub" button found on the right-hand side bar and join the group.
Adjust the speed of the conversation to your liking. Options are: Fast, Medium, Slow, Slower, or Slowest.
Introduce yourself and join the conversation, by entering your comment, tips, or questions in the "Tweet to #FoodFri as [YourName] box"
Or, respond to a specific tweet by hovering over the right-hand side of the individual's tweet and selecting one of the icons.

 
More about our #FoodFri Featured Panelist:

Food Revolution Day is Jamie Oliver's global day of action to keep cooking skills alive! It's about celebrating the importance of good food, passing on cooking skills and raising awareness of how food impacts our health and happiness.
With diet-related illnesses rising at an alarming rate, it has never been more important to educate people about food and how to cook it. Jamie believes this starts with getting kids food smart, making cooking fun and inspiring a love of food that will last a lifetime-and we agree!
Therefore we are calling all kids, families and grown-ups to join us on Revolution Day 2014 this 16 May! Sign up today and join the revolution! And don't forget to share with us what you are getting up to in the build-up and on Food Revolution Day itself using the hashtag #FRD2014.
Follow Jaime's Food Revolution Day on Facebook and Twitter. 
Jennifer Tyler Lee is on a mission to end battles over broccoli and help busy parents have fun at the family table! Her book, The 52 New Foods Challenge: A Family Cooking Adventure for Each Week of the Year, is a week-by-week guide that makes it easy to cook together as a family—one new food each week. With 150 simple, delicious recipes and advice from nationally acclaimed nutrition experts, The 52 New Foods Challenge shows parents how to enjoy mealtimes, plant the seeds of change at their family table, and easily incorporate healthy habits every day of the year. What's more, the book will inspire your child's creativity and confidence in the kitchen, and beyond.
Heralded by Jamie Oliver's Food Revolution as "A mom and genius game creator helping kids eat fresh food!"—Jennifer has garnered national attention for The 52 New Foods Challenge and her award-winning series of healthy eating games, Crunch a Color. Started from her kitchen table in the fall of 2011, Crunch a Color was named one of Dr. Toy's "10 Best" in 2011 and 2012.