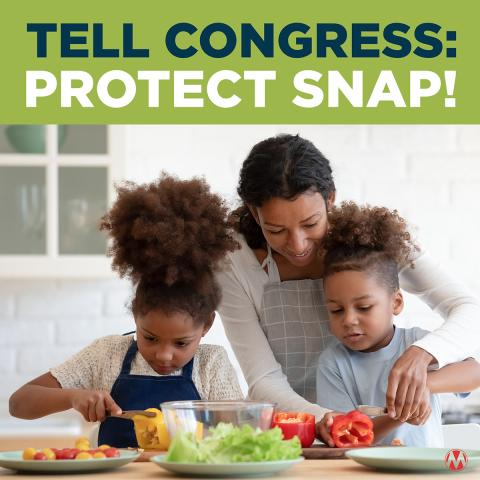 Food stamps are at risk for hundreds of thousands of families
Last week a bipartisan deal kept the U.S. from the brink of economic disaster and saved millions of jobs… but there was a price to pay for that: Further time restrictions and harsh work requirements were passed for 750,000 SNAP (food stamps) recipients. [1]
Now, with major decisions being made in the coming months regarding the vital Supplemental Nutrition Assistance Program (SNAP) we need to make our voices heard to Congress: Hands off SNAP!
***SIGN OUR LETTER to Congress now telling them no more cuts to SNAP! They must protect and invest in this vital program!
Our work in defending SNAP and making sure all people have enough to eat in this country is far from over. In the coming months Congress will be reauthorizing the Farm Bill, the piece of legislation that determines policy on SNAP. With such major changes made to SNAP in the debt ceiling agreement we need members of Congress to know that our families need SNAP strengthened and well-funded, NOT rolled back—aka hands off SNAP! We need to use our voices to make it known that we are unhappy with the changes already put in place to this vital anti-hunger program and no more cuts, road blocks, or barriers should be made to this critical food program that now provides an average of a paltry (but crucially needed) $6 a day to those in need. Our elected leaders should be making it easier for struggling families and people to access food, not harder!
***Add your name to our letter calling on Congress to #ProtectSNAP!
Here's what happened last week: Republicans in Congress demanded harmful budget cuts and changes to SNAP in order to raise the debt ceiling and avoid default. [2] The Fiscal Responsibility Act, the debt ceiling legislation, made some key changes to SNAP:
Raises the age from 49 to 54 on SNAP "time limits," meaning people aged 18-54 will be restricted to only accessing SNAP for 3 months in a 3 year period unless working at least 20 hours a week, part of a work training program (not college), or part of the exempt groups (listed below).
Reduces the number of able-bodied people who can be exempt from work requirements without children living in the house.
On the plus side, new categories of people exempt from work requirements were issued including veterans, people experiencing homelessness, and those aging out of foster care. This is added to the existing list of people exempt from work requirements: Anyone sharing a household with children under 18, pregnant women, people medically certified as physically or mentally unfit for employment (usually this is people legally defined as "disabled" by our government).
At the end of the day, what this means is nearly 750,000 adults ages 50 through 54 could be newly subject to the expanded work requirement and at risk of losing their nutrition assistance under this work requirement. Nearly half of those newly at risk are women. Many of these recipients have very low incomes, have family caregiving responsibilities, and have health conditions that could limit their ability to work. [3]
We don't need any more barriers–time limitations, work requirements, anything!--to SNAP! Despite the stringent work requirements the Republicans are trying to push, we know that SNAP is an important support (not a hindrance) for our economy and for workers who are paid low wages and for those looking for work. No one can work when they are hungry. SNAP helps fill the gaps for workers with low and inconsistent pay, and it helps people afford food for themselves and their families during periods when they are looking for work. Most SNAP participants who can work do so. But many of the jobs most common among SNAP participants, such as service or sales jobs, often pay low wages and don't offer regular work hours or benefits like paid sick days and sick leave. This often makes it difficult for workers to earn sufficient income to provide for their families and may contribute to volatility due to high job turnover. [4]
This is why we need Congress to strengthen SNAP, not pass anymore barriers, work requirements, time limitations, or budget cuts to this life-saving program.
We know SNAP works! By providing monthly benefits to eligible low-income people to purchase food, SNAP plays a critical role in boosting the economy; reducing hunger, malnutrition, and poverty; and in improving family security, child and adult health, employment, and other outcomes. Nearly two-thirds of SNAP benefits go to families with children.[5] Because SNAP benefits are so urgently needed by families, they are spent quickly — 97 percent of benefits are redeemed by the end of the month of issuance — thereby bolstering local economies. In fact, according to recent studies, it is estimated that each dollar in federally funded SNAP benefits during a recession generates between $1.50 and $1.80 in economic activity. SNAP is targeted to go to the lowest-income people in our country. [6]
This is all the more reason that we need YOU to help us defend SNAP and make sure everyone in this country has enough food to eat.
After you add your name to our letter to Congress, forward this email to your friends and family and make sure they sign our letter as well. We need to make it known that moms, dads, caregivers, and voters across the country will not stand by quietly while vital food assistance is slashed.
Thank you for all you do to stand up for our families!
-Elyssa, Hanna, Donna, Kristin, and the whole MomsRising.org & MamásConPoder Team
P.S. Do you currently use SNAP or have you ever? MomsRising wants to hear from you! One other very important way we can make sure Congress understands how important this program is to people across the country is by sharing our stories with them. Share your SNAP story with us (you can even do so anonymously).
References:
[1, 3] Center on Budget and Policy Priorities. "Debt Ceiling Agreement's SNAP Changes Would Increase Hunger and Poverty for Many Older Low-Income People." May 31, 2023.
[2] CNN. "Here's who would have to work for government benefits -and who wouldn't-under the debt ceiling package." June 2, 2023.
[4,5 ] Center on Budget and Policy Priorities. "SNAP is and Remains Our Most Effective Tool to Combat Hunger." February 14, 2023. 
[6] FRAC. "Supplemental Nutrition Assistance Program."