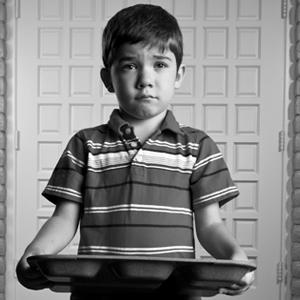 One way I show my children love is through food, like when I prepare their favorite dish, or give them the last bite of dinner off my plate. I literally can't stand it when they are hungry, and will go to ridiculous lengths to feed them. Every one of my friends who has children, or is regularly around children, knows exactly what I mean.
And I think you do, too.
Feeding our kids… keeping them from being hungry… is a visceral instinct. That's why it is shocking to learn that 15.8 million children — that's ONE in FIVE children! — live in food-insecure households and can't count on getting regular meals. Children obviously need nutritious food, but food insecurity — not having *reliable access* to a sufficient quantity of affordable, nutritious food — brings its own set of risks and dangers.
Children with hunger are more likely to have repeated a grade, received special education services, or received mental health counseling, than children who do not experience hunger. And research shows a clear link between food insecurity and low birth weight, birth defects, iron deficiency anemia, more frequent colds and stomachaches, developmental risk and mental health problems.
The Child Nutrition Act of 1966 established our federal school meal and child nutrition programs, such as school lunch, which for many children is the only meal of the day they can rely on. Congress reauthorizes program standards and funding for the Child Nutrition Act every five years, and has just begun the 2015 reauthorization process. This is a critical opportunity to feed more American children healthy, nutritious food.
While lawmakers review the different food programs — including those focused on summer nutrition, child and adult care, school breakfast and lunch, and special supplemental nutrition for women, infants and children — they need to be reminded that feeding children is not only a family priority, but must be a national one as well. The most authoritative and powerful voice for this message is YOU and ME — the moms, dads and family members who love our children.
Please join me and use your voice of authority as a parent or family member who loves and cares for children and help me tell Congress
to use the 2015 Child Nutrition Authorization to give as many childrenas possible access to nutritious, healthy food!
TAKE ACTION NOW: http://action.momsrising.org/sign/CNR2015/