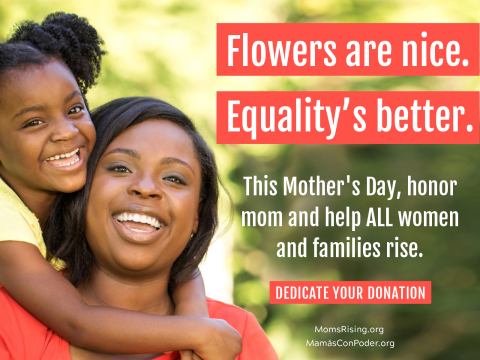 Flowers are nice. Now add EQUALITY!
Mother's Day is coming, and we've got an awesome new way to help you honor or remember a mom you love.
Celebrate a mom with a MomsRising Mother's Day tribute gift!
More powerful than flowers, longer lasting than brunch, and more delicious than a box of chocolates; this unique and meaningful Mother's Day gift does more than honor moms. It empowers them, every day, all year long as we work hard:
Protecting healthcare for our families
Winning fair pay for women
Defending immigrant children, moms, and families and stopping family separation
Fighting for maternal justice
And so much more.
Show your appreciation for mom with a MomsRising tribute gift, and support the movement that fights every day for women, moms and families.
We'll announce your generosity to a recipient of your choice with a beautiful e-card of your choice. AND, if you like, we'll post your personal dedication message in a Facebook album we'll be sharing on Mother's Day.
Don't miss this super-charged, limited-edition Mother's Day tribute gift.
Thank you for fighting for a brighter future for all moms and families.
Happy Mother's Day!
P.S. Want to make a regular Mother's Day donation instead? Click here to make more mom power with a gift to MomsRising Together.