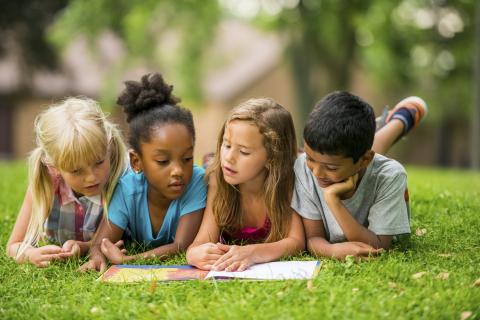 Five Ways to Help Your Children Succeed this Fall and Holiday Season!
Welcome to our second installment of #MomsReading! In this series, we discuss book suggestions and activities that parents and care providers can use to build a child's social and emotional intelligence. 
The fall and start of winter can be an exciting time for families: a new school year, pumpkins, sweaters, and hot cocoa. A season full of holidays and traditions - and the many emotions that go along with them.
The combination of new and old experiences are a perfect opportunity to help your kid(s) build on their social-emotional skills! For more info on what social-emotional skills are, check out our summer blog post.
Below are some activities and books that will help build your child's emotional and cognitive skills this fall and winter. There are endless possibilities for books to read though, but below are some of our top picks. Share any your favorites on Facebook and Twitter using the #MomsReading hashtag, and let us know what books your family is enjoying and how they are helping your child grow.
Relationship Skills
Read this! Read Rainbow Fish, a book about the most beautiful fish in the ocean who learns a valuable lesson about sharing his precious scales and making friends.
Write this! Talk about the importance of friendship and ask your kids what it means to be a good friend. As they share, write the words and phrases on a sheet of paper decorated with "fish friends" (fish cut out of construction paper or fish themed stickers!). Refer back to their list as you see children using their "fish friend" ideas throughout the day.
Do this! Have a "Be a Good Friend Day!" so your kids can practice using their friendship skills throughout the day. Refer back to their "fish friend" list to remind them of what it means to be a good friend.
Do This! Show kindness in action by bringing a sick friend some flowers or cocoa, random acts of kindness, etc. to spread holiday cheer!
Self-Awareness
Read this! Read Say Hello!, and follow Carmelita and her dog Manny as they greet everyone in her neighborhood. To expand, go online and research how to say "Happy Holidays" in all of the languages that Carmelita explores in Say Hello!
Do this! Check out this Arthur resource titled "Around the World and the World Wide Web Adventure" (seen on page 4!) with your child.  Together you can learn about children, and the languages they speak, while also exposing your child to a new language.  Bilingual youth are shown to have increased emotional intelligence-as seen in this study where they found multilingual exposure facilitates the basic skills of interpersonal understanding.
Play this! This fun matching game teaches different ways to say hello! Match the country with their greeting. Compare the phrases in the game with the ones used in the book.
Read this! There can be emotional barriers that create obstacles to dual language learning. The Southern Poverty Law Center, with their Teaching Tolerance project, has tips about how to help your child cope with these new anxieties and gain self-confidence about their language skills.
Social Awareness
Read this! Read Bear Says Thanks and talk about the importance of celebrating family and friends by saying thank you.
Write this! Create a "Thankfulness Jar" for the family. Have your kids decorate a jar/basket and place a notepad and pen next to it. Leave the jar out during the season and have family members write down things for which they are thankful. They can be big things, or small little gestures. This gives people time to think about it and write heartfelt answers. During the holiday meal of your choice, have your kids pull them out and read them during dinner.
Do this! Teach your child to be thankful for others' hard work by giving direct compliments and saying thank you during a holiday meal. The simple pause to notice a person's contribution to the celebration can have a huge impact. The meal comes together because everyone contributes something special. A simple thank you goes a long way in modeling social awareness!
Self Management
Read this! Read Little Monkey Calms Down and talk about emotions and how they can make you feel. During the story, create a song or rhyme to say that can be used later on when your child feels overwhelmed or during a meltdown.
Do this! Teach your child to blow bubbles to manage stress. At first, blow bubbles with them while they are not upset. While blowing bubbles, talk about how the next time your child is upset or mad they can blow imaginary bubbles to make themselves feel better. In the moment, remind your child by saying, "Why don't you blow bubbles to calm down" instead of just, "Calm down!"
Do this! Make a "Keep Calm" area in your home where your child can go when they need to take a step away and calm down. This can be as simple as a small square of carpet to put in a corner of a room, with a pillow or stuffed animal. This is especially useful when your child has a tantrum. Asking them to go to the "keep calm" area can make the tantrum less serious. The "keep calm" area can also serve as a source of security: if your child knows there's a place to go to calm down and he can leave as soon as he feels better.
Responsible Decision Making
Read this! Read Hunches in Bunches and talk about decisions your child makes every day. Discuss their current thought process about how they come to their answers.
Do this! Have your child plan one part of your holiday meal. To keep it simple, try something like a fruit salad or dessert. Once your child finalizes the menu, shop for it (if necessary) and prepare the meal with your child's help.
Do this! Show your child that no matter what, you'll always love and support them. Everyone makes bad choices at times, and supporting your child through hard decisions and poor choices shows you love them unconditionally. You can also them make up for mistakes. Did she hurt a friend? Help them write an apology note and ask for forgiveness.
What are you reading with your kids? Remember to share with us on Facebook or Twitter using the #MomsReading hashtag!