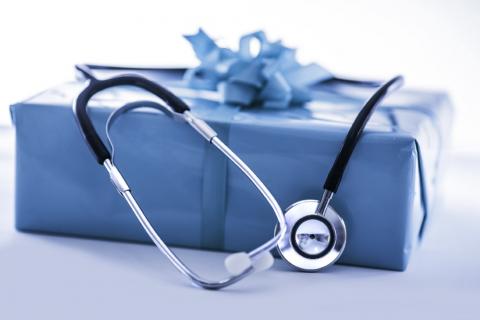 Five Things Consumers Need to Know this Open Enrollment Period
The holidays will soon be upon us — and with them, for many of us, the frantic holiday shopping season. Fortunately, shopping for health insurance doesn't have to be difficult or time-consuming.
November 1st marked the beginning of 2018 open enrollment for coverage offered under the Affordable Care Act (ACA). From the (many) failed attempts to "repeal and replace," to the Trump Administration's campaign to sabotage the individual marketplace, to all of the political noise and rhetoric in between, there's likely been a lot of confusion about the state of healthcare in this country.
Here are five things consumers should have in mind as they shop for healthcare.
1. The ACA is open for business!
Contrary to the claims that the ACA is "dead," the historic health law is alive and well.
Starting November 1st, consumers can shop and sign up for coverage using either Healthcare.gov or through their state-based exchange. Though many states have extended their deadlines, consumers using the federal exchange will have until just December 15th to enroll.
All of the consumer protections, essential health benefits, and financial assistance ushered in by the ACA is still available. Insurance companies will not be able to deny people coverage because of a pre-existing condition or impose caps on treatment, and individuals making less than 400% of the federal poverty level — about $48,000 — will still be eligible for financial assistance to help afford coverage.
Obamacare is alive and — at least for the time being — TrumpCare is dead.
2. There are some barriers to enrollment this year, but free trained help is still available.
From holding financial assistance for low-income consumers hostage, to signing executive orders that could cause serious harm to consumers in the years to come, the Trump Administration has waged a relentless campaign to sabotage the individual marketplace since taking office.
Notably, the Trump Administration has cut the open enrollment period in half this year, and gutted advertising and outreach assistance that is crucial for connecting people to coverage. This means that consumers will have less time — just 45 days — and assistance to get covered. Still, many areas do have enrollment navigators that can help people sign up,* and independent activists are working tirelessly to maximize enrollment.
3. Financial assistance is still available — some people can find plans for free!
Consumers should certainly be concerned about what the Trump Administration's sabotage campaign will mean for their financial and physical health. As health experts, advocates, and even insurers have argued, the confusion and uncertainty caused by the Trump Administration and GOP-led effort to undermine the ACA has caused premiums to soar. The President's decision to withhold cost-sharing reduction (CSR) payments to insurers — subsidies that help 7 million low-income consumers nationwide defray deductibles, co-payments, and other costs associated with receiving care — is just the latest example.
But fortunately, most consumers who are eligible for subsidies will be shielded from these premium hikes. Moreover, even though the Trump Administration suspended payments, insurers are required to cover the cost of the services covered by the CSR funds, and many companies have made adjustments to account for the lost funds.
Indeed, the U.S. Department of Health and Human Services itself estimates that 80% of consumers who are subsidy-eligible can get a plan for less than $75 per month on the marketplace. For many consumers, 2018 will be the most affordable year yet.
4. There's (still) a penalty for most people who don't get insurance.
Despite talks that Congressional Republicans could nix it through their tax plan, the individual mandate is still in place. If you don't qualify for an exemption and you are uninsured, this year the fine is $695 per person or up to 2.5% of your income, whichever is higher.
You may qualify for an exemption if insurance available to you is considered unaffordable (if it costs more than 8.05% of your household income), if you experienced a hardship, or if you are ineligible to purchase Marketplace insurance due to your immigration status.
But for the vast majority of people, affordable options are available. An accident or injury can strike any day — and when it does, the last thing you should worry about is how to pay for your healthcare.
5. Enrollment is resistance.
To be sure, we must remain vigilant against legislative and administrative attacks on the ACA and Medicaid, continue to hold the Trump Administration accountable for its reckless sabotage campaign, and push congressional lawmakers to advance bipartisan efforts to build on and improve the ACA. The healthcare of millions depends on it.
But just as important, we must fight to maximize enrollment. This is indispensable to building on the historic progress produced by the ACA — and to putting an end to TrumpCare.
So, before you start your holiday shopping, go to Healthcare.gov or your state exchange, and find a plan that meets your needs. And enjoy the holiday season, with peace of mind knowing that not only are you and your family covered, but millions across America also have continued access to high-quality, affordable healthcare.
*Many consumers can find enrollment assistance using this tool from Healthcare.gov. But consumers in Illinois, North Carolina, South Carolina, Florida, Texas, Ohio,Michigan, Arizona, Kansas, West Virginia, Wisconsin, and Tennessee should use this tool from Get Covered America.
This blog was originally published in the Shriver Brief: https://theshriverbrief.org/five-things-consumers-need-to-know-this-open...