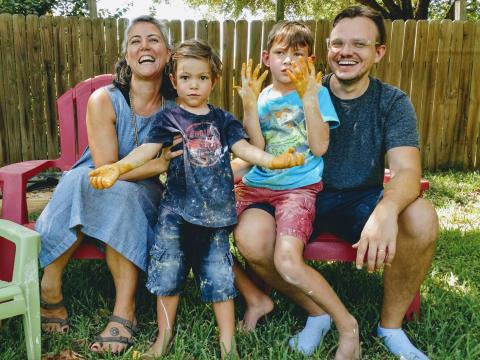 My name is Karen Browning and I'm proud to be a part of MomsRising! Becoming a mother changed me in ways I never imagined it would. I've been politically active and committed to doing what I can to help make the world a better place, since I was a teenager. Becoming a mother to my two boys only strengthened that commitment. 
My husband and I both work full time in the tech industry. We have jobs that allow us to work flexible hours and both can work from home, but we still need full time childcare in order to get our work done. We made Austin, TX our home in 2015, which has been great for our family in so many ways, but we have no immediate family here. So many of our friends rely on grandparents, aunts and uncles to help with childcare during the summer and other times school is out. We live far from our families. 
Our summer childcare is a hodge podge of expensive, creative camps, less expensive camps where the boys are supervised by young adults with no training, or much experience, or days with our babysitter which ends up being a medium cost between the other two options. Some days we keep them home with us to save money and try to keep them busy with "mom camp." On those days I end up finishing my work at night after the boys are in bed. It's not easy, but I'm sure plenty of people have it far worse. In fact, many parents face barriers to securing care for their children, with 3 in 4 families reporting at least some difficulty finding child care during the summer.  And for 57 percent of families, one parent has to change their usual work schedule to make their summer care plans work. Childcare is our second highest expense after paying for our house. This is true for so many families, especially when it comes to summer care! The average family spends about 20% of their income on summer care, which is so high.
We've been lucky to have some amazing women in our lives who have cared for our children for years, who are like extended family now. It's reassuring to know that our children are cared for and safe, but the added stress of paying for afterschool and summer childcare puts a strain on our family. I know we're not alone in this and I hope that bringing attention to the issue can help our communities pull together to find solutions that help working families.