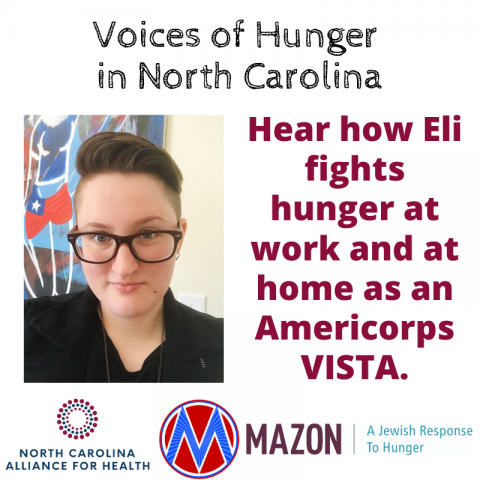 Fighting Hunger at Work and at Home: An Americorps VISTA's Experience (Part 1 of 2)
Listen to Eli share how they fight hunger at work and at home as an Americorps VISTA volunteer. They share the challenges they faced applying for SNAP benefits (formerly food stamps). And, they share what it was like to both work and receive food from a food pantry. Check out their story in this episode of Voices of Hunger NC, co-hosted by MomsRising and North Carolina Alliance for Health, with support from MAZON: A Jewish Response to Hunger. 
Eli Lumens has authored the story below, both Parts 1 and 2.
Let's talk about food insecurity. Did you know that 34% of students at UNC Greensboro experience food insecurity at some point during the semester? That's 6,836 of the 20,106 students enrolled in the Fall 2018 semester. Not to mention, Greensboro is ranked #9 in the country for food insecurity in metropolitan areas.
I firmly believe that everyone should have access to basic necessities: shelter, hygiene, education, food...
I am an AmeriCorps VISTA member with the NC Hunger Corps. My primary focus is on food insecurity, specifically negating it.
Half of my time is spent with UNC Greensboro's Office of Leadership and Civic Engagement, where I work with the Farmer Foodshare Donation Station, days of service, and the Empty Bowls program. The other half of my hours are with the Spartan Open Pantry and the Spartan Garden Gnomes, a student group that cultivates the community gardens, which grow produce for the Pantry.
I could go on for hours about my job and how much I love it. However, what I want to talk about today is the Supplemental Nutrition Assistance Program (SNAP), or what we normally refer to as Food Stamps.
When I started as a VISTA, I was told that I qualified for SNAP. In fact, I qualified for all of the available SNAP funds, which is $194 monthly for one person in North Carolina.
Let's get the humour out of the way, though. A VISTA focused on food insecurity needing SNAP because of their food insecurity? It's ironic, I know.
Getting Started
Anyways, I was directed to contact a regional food bank, who would have a representative call me to get my application set up. It's recommended to look through the paper application online, fill it out, and then meet with someone at the Department of Social Services with any questions. From there, the application takes 7 days to be considered and 7 to 14 days for your SNAP card to come in the mail. Once you're all set up, you receive your monthly balance at 6:00am on the day that corresponds to the last digit of your social security number.
That sounds easy, right? Fill in some paperwork, wait 2 weeks, and then every month you get money to use at the grocery store. So simple!
Yeah, right. Let's get real. Nothing is ever that simple.
First off, I had some misconceptions going into this. I didn't think that benefits rolled over month-to-month, but apparently they do and only expire after 12 months. Also, apparently, there's a 6-month evaluation where they cut off your benefits and have you fill out more forms.
Now, let me tell you about my personal experience with Food Stamps.
I filled out an interest form with the regional food bank on July 22. Or, rather, I tried to fill that out. However, I had to choose a county on the form and Guilford wasn't one of the options. Fortunately, it only took 2 days for me to hear back about what to do, and I submitted the form on July 24. Supposedly, they knew the new VISTAs would be needing help, so I was hoping they'd get back to me soon.
In the meantime, I decided to peruse the paper application. I figured the food bank representative would need that same information from me. Let me be the first to say that the application online is super confusing and asks for a ton of information that I did not know how to get. I had the 10-page application printed out and covered in blue and orange sticky notes. I was very ready to talk to an actual human being about how to finish getting set up, by all accounts.
Fast forward a week and a half to August 2. I still hadn't heard from the food bank, and I was getting a little antsy. I decided to take some time in the morning to go to the Department of Social Services and get the ball rolling without the food bank's involvement.
August
With all of the horror stories I'd heard, I didn't have much hope for my venture. Wow, was I wrong. There were some administrative problems with setting up my account, but I got it all settled. I took the notes from the application, but I didn't even need to use them. They didn't ask me even a fourth of the information on the paper forms. I took in every VISTA form I could find, including one about qualifying for social service benefits and one about a disregard of income. By the time I walked out, I was feeling a little confused, but overall good.
When I hadn't received a call about the amount I qualified for 7 days later, I began to worry. On August 5, I called DSS to check in and make sure they didn't need more information from me or anything. The representative was very helpful and assured me that everything was taken care of. She didn't know why I hadn't received a letter, but told me that I would get my card by that Friday, which was 14 days from the date of my application and to call back if I didn't find it in my mailbox.
Friday, August 9 rolled around and I didn't get a letter or a card. I called DSS yet again on August 13 to see what happened. Somehow, despite me telling them several times and giving them my sublease agreement, they never took note of my apartment number in my file. They had to send me a new card with another waiting period of 14 days. Let's just say that I was not thrilled with this information.
Waking up Thursday, August 29 was not a pleasant experience. I had an intense migraine that put me completely out of commission. The only saving grace of the day was the one time I managed to get out of my apartment to check the mail, only to find my SNAP card and my replacement credit card - which is a whole different story involving a lack of an apartment number, ironically.
I received my allotted SNAP benefits on the 13th, which meant they'd sat untouched for 16 days at that point. That weekend, I took my new card for a spin, which was very exciting!
I was worried that I'd feel ashamed or embarrassed. There's a stigma surrounding getting social services, which makes me uncomfortable. However, I was so relieved to finally have the assistance that all I could think was how happy I was to finally have the Food Stamps! Every time I swiped the card, I was filled with glee! I almost cried over being able to afford $37 of fresh produce at Aldi.
I shop like a doomsday prepper, so I filled my cupboard with non-perishable foods and my freezer with vegetables, bread, and meat alternatives. It turns out that this was an excellent strategy, which I found out firsthand on Friday, September 13.