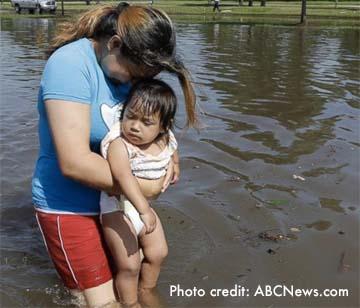 FEMA Is Underfunded and Houston Is In Need!
Rain continues to fall on Houston and surrounding areas. As we watch Hurricane Harvey victims struggling through floodwater to reach safety, fighting for their very survival, we are heartbroken and searching for ways to help. Well, here's one critical way: Make sure the Federal Emergency Management Agency (FEMA) is adequately funded so help gets to Texas quickly.
FEMA must be given the emergency resources it will take to meet the unprecedented needs of Hurricane Harvey victims.
*Click here to tell Congress to pass emergency funding for Hurricane Harvey victims as soon as possible, with special attention to the needs of low-income and vulnerable people and communities.
Our country was not prepared for Hurricane Harvey. With only $3.3 billion to spend, FEMA does not have nearly enough resources to cover rescue and recovery efforts in Houston and along the Gulf Coast. A report by CoreLogic estimates that Hurricane Harvey could cause $39.6 billion of damage of homes alone in its immediate path.
Anyone who has turned on the television in recent days knows this is an emergency situation and that the families in our Gulf States need a focused emergency response. A major infusion of federal funds is critically needed to bring in additional emergency response teams; begin cleanup efforts; repair damaged houses, schools, businesses, and infrastructure; provide aid to displaced families; help those who have lost their homes and livelihood; provide healthcare and nutrition assistance to those in need; and more.
But while federal funding for disaster relief should be increased immediately, it should not come at the expense of other programs that support our families' health care, nutrition, housing, education, and welfare. Under current law, emergency funding is not included under existing budget caps, and Congress should follow the law to ensure an immediate and effective response without causing harm elsewhere.
As Congress returns from August recess, top of the Republican agenda will be to pass a federal budget aimed at reducing the size of government by slashing government programs. In his own version of the budget, Donald Trump proposed major funding cuts for disaster relief. As we are seeing now with Hurricane Harvey, FEMA is central to relief efforts in this historic national disaster, demonstrating the unique role government plays in times of need, providing assistance and support, mitigating the effects of disaster for America families and communities.
Together, we must be a strong voice to make sure the resources are available to help the families and communities in the path of this national disaster.