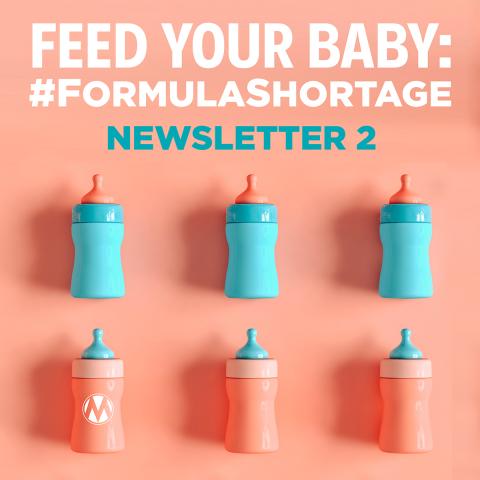 Feed Your Baby: Formula Shortage Newsletter 2
I know the past few weeks have been challenging ones to be parents and caretakers. In these difficult times we really appreciate you continuing to be engaged, advocating for what our families need, and sharing your stories. 
Speaking of stories, we want to know if you are still having trouble finding the baby formula you need or if you are able to find and afford formula when you look for it. 
While the formula shortage continues, we have some positive updates that I'm really hoping will help you and your baby get the nutrition he or she needs.
Here's what's going on:
There have now been multiple shipments of formula from abroad into the U.S. as part of Operation Fly Formula led by President Biden. By the end of this week, Operation Fly Formula will have completed 32 flights and imported almost 19 million 8-ounce bottle equivalents of infant formula. This includes both specialized formula for babies and children with health and dietary concerns, as well as regular formula. All formula you can find on store shelves right now, including imported formula, is safe for your baby to drink. The FDA is hard at work making sure there are new labels on the imported formula and all of that formula is up to U.S. safety standards. The American Academy of Pediatrics has created this helpful infographic with helpful facts about imported formula. 
However, there has been an unfortunate setback in getting the Abbott plant in Sturgis, MI back up and running. As you may recall, this is the plant responsible for making Similac and other brands that was shutdown in February after bacteria was found in some of the formula. This led to a very large recall that then led to a nationwide baby formula shortage. The Abbott plant is one of the main producers of baby formula in the U.S.and it was expected to begin production again 2 weeks ago, but a massive flood has delayed that timeline and it still remains closed. When it is able to get back up and running, they will begin with the production of specialty formulas for babies with allergies and medical needs and then regular formula. But the production and distribution of these products will likely be delayed into the end of July or beginning of August. 
Information for WIC recipients:
We know the baby formula shortage has been particularly hard on WIC recipients. What I am hearing from my discussions with many of you is that your brand of formula is still very hard to find and you are unable to take advantage of many of the avenues of finding formula that non-WIC recipients can do like crossing state lines and purchasing formula through parent facebook groups and formula finder networks. We hear you on how stressful this is and want you to know that we are passing these concerns on to key members of the Biden Administration at the White House, Department of Agriculture, FDA, and Department of Health and Human Services.
The USDA has passed nationwide WIC flexibility waivers, giving states the ability to allow WIC recipients the option to purchase different size formula containers and brands (including imported brands). Unfortunately, not every state is taking advantage of these waivers yet, but here is a list of states that are. In general, we encourage you to contact your local WIC clinic if you have questions about what types of formula you can now purchase or are still having difficulty finding the formula your baby uses.
We especially want an update from WIC moms and dads, so please respond to this email and let me know if you are getting the formula your baby needs and any other thoughts you think we should know about your situation. 
Action items and resources:
1. Sign MomsRising's letter to Congress– Sign our letter to Congress calling on them to take immediate action to address the infant formula shortage and prevent future shortages from happening!
2. Use and share our formula shortage social media toolkit–We pulled together this bilingual toolkit to provide information and resources on how to find formula for your children, combat misinformation, and collect stories on how this shortage has affected families.
3. Share your story–We want to know how your family is being impacted by the formula shortage and also if you are still having trouble finding formula. You can respond to this email with your thoughts or go to our story page.
4. Check out the Department of Health and Human Services baby formula resource page.
If you or anyone you know would benefit from this information coming straight to your inbox you can sign up for our formula updates here.