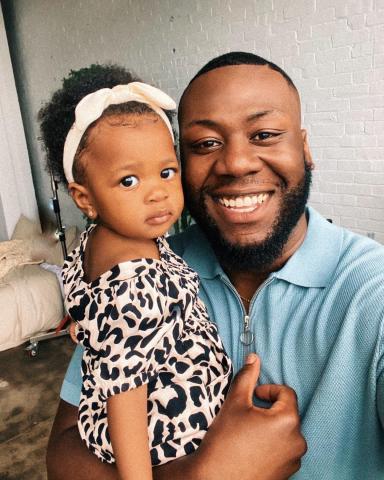 Father's Day, the gift of time
Happy Father's Day to all the dads, papas, pop-pops, g-pops. My little one calls me dada, I wear the badge proudly. This is Father's Day #2 for your boy and I cannot express how excited I am.
I'm in disbelief that I have a 1 year old already. Time has passed so quickly. It feels like we were just bringing our baby girl home from the hospital. I remember nervously trying to make sure everything was perfect for both her and mom. My wife might say that I handled most things with grace and patience, but on the inside I was more than a little anxious; this was my first time being a father and for me this was the most important role I've ever stepped into. A year in, I can say that I am definitely enjoying the ride!
Thinking back to her newborn days, I am reminded of the sleepless nights, diaper blowouts, midnight feedings, and coffee fueled days and all I can do is smile. While some days were hard, I still can't be anything but grateful for the time we had in those early months. We were fortunate to have the priceless resource of time to spend together, to grow together. At the time I was self-employed and able to save enough money to take six weeks away from work to bond with our newborn and care for and support my wife as she recovered from childbirth. My wife's employer expanded their paid family and medical leave policy to six months of paid leave, just in time. We were lucky. Paid leave gave us the opportunity to take the much needed time off to focus on our new family. We were able to watch our baby grow and care for her through many developmental stages. Not to mention, that four month sleep regression! They don't tell you about that one! 
Looking back, I realize that we are doing a great job as parents, I am the father I always dreamed of being. I no longer question my abilities or worry that I will not be enough for her. She will not remember everything I've done for her, but she will always remember the time spent. More seasoned fathers have shared their advice about prioritizing quality family time, urging me to soak in every moment with my child.
Time is a blessing. 
My daughter has taught me so much in her short life, not just about fatherhood but also about my purpose. Her life has given me validity, in a way that I did not know I needed. We've built an unbreakable bond and that's because every day I wake up, I choose to be present, I choose time. This Father's Day feels good to me. I feel fortunate, lucky, blessed to grow and learn as a husband and a father. Being a family man has put a greater value on the importance of time. 
But no family should have to be fortunate, lucky, or blessed. No family should have to worry about their financial stability while caring for their new baby, birthing partner, or themselves. Paid family leave gave us time; and for that I am grateful. If I could make a wish for Father's Day, it would be that everyone had access to paid family and medical leave. We all deserve the gift of time. 
Submitted by Isaiah Gaymon