Farmworker Women and the Heavy Burdens They Bear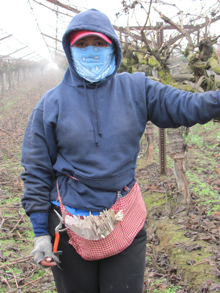 Photo caption: A farmworker woman picking grapes. Many farmworker women cover their faces to protect themselves from pesticides while they work. Farmworker women also use bandanas on the job to cover their faces and bodies in an attempt to ward off unwanted sexual attention that often leads to rape.
Farmworkers carry the weight of the US food system on their backs. Farmworker women's load, however, is especially heavy: They work tirelessly in fields and orchards harvesting the fruits and vegetables that we all eat, while facing dangerous conditions, low pay, discriminatory treatment, and sexual harassment.  Despite these obstacles, farmworker women have found ways to organize for a better future.
According to the most recent National Agricultural Workers' Survey, 71% of farmworkers are foreign born and an estimated 48% are undocumented.  They are among the poorest of the working poor, with a median annual income of between $15,000 and $17,499. Farmworker women make even less than their male counterparts, however.  There are several reasons for this disparity. Many farmworkers are paid per piece or item harvested, instead of an hourly wage or salary, and women often cannot harvest crops at the same rate as men. In addition, farmworker women, who usually do not have sick leave, often miss work when they cannot secure childcare or when their children are sick. Women are also often overlooked for supervisory positions, or positions that require handling of heavy equipment, as those jobs tend to be reserved for men.
Farmworker women, like all agricultural workers, are also exposed to a variety of occupational hazards. They spend long hours standing, bending, and crouching. They work in extreme temperatures and often experience dehydration and overexertion. They are exposed to pesticides associated with breast and cervical cancers, infertility, miscarriages, and birth defects. These factors, combined with low socio-economic status, discrimination, lack of health insurance, and cultural and linguistic barriers, result in serious damage to farmworker women's health, as well as that of their children. The infant mortality rate among migrant and season farmworkers is twice the national average.
Farmworker women face widespread sexual abuse and violence. A 2010 survey in California by the Southern Poverty Law Center found that 80% of farmworker women had experienced some form of sexual abuse. Sexual abuse can take the form of unwanted touching, sexual comments, verbal abuse, pressure to engage in sexual acts, and even rape. This abuse is often part of power inequalities between the workers and supervisors, crew leaders, and foremen, where the perpetrators use sexual violence to control their workers.
Many farmworker women are hesitant to report labor law violations or crimes committed against them due to their extreme poverty, undocumented status, language barriers, cultural barriers, and mobility, among many other factors. Undocumented women are  especially afraid to speak up against abuses because of fear of deportation or employer retaliation.
Farmworker women carry a heavy load in our society. They work tirelessly in dangerous conditions, face discriminatory treatment, and confront sexual harassment and unwanted advances by other workers, crew leaders, and supervisors. Despite these burdens, some women have been organizing for change.
The Alianza Nacional de Campesinas (The National Alliance of Farmworker Women) is the first national farmworker women's organization created by and for current and former farmworker women. From April 6-10, Alianza members came together in Washington DC to discuss several important issues impacting their lives, including violence against women, workplace exploitation, health and safety, and sexual harassment.  They also visited Congressional offices and met with federal agency representatives to educate policy makers about their concerns and the impact that immigration reform would make in their lives.  They voiced their concern that immigration reform should include a path to citizenship for undocumented farmworkers and their family members and for any future agricultural workers that come to this country.
We agree that now is the time to move forward on immigration reform. Farmworker Justice is committed to immigration reform that empowers farmworkers to improve their inadequate wages and working conditions. For today and tomorrow's farmworkers, a roadmap to immigration status and citizenship, combined with strong labor protections and economic freedom, is essential to these goals.
To learn more about farmworker women please visit www.farmworkerjustice.org.