Family Cookbook Worthy: Miso Tahini Dip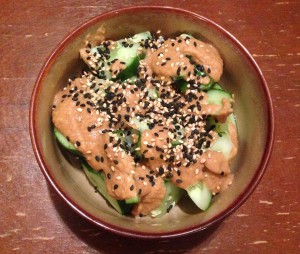 My mom called a few weeks ago with an announcement. "I'm putting one of your recipes into the family cookbook!" she exclaimed happily. "You pick the first one."
My fiancée and I are a few months away from our wedding. Somehow, more so than our recent sprawling combined family holidays or our upcoming nuptials, our first entry in the family cookbook felt like proof that we're in it for the long haul. I could imagine the book on the table, across the country on a kitchen counter in Baltimore, sticky and smeared with bread flour and streaks of sugar. It's a container for our most precious family heirlooms: my mom's Thai peanut butter chicken, her Cuban bread, the thousand cloves of garlic chicken she used to make every Passover. This isn't a cookbook that sits glossy and pretty on a shelf. This is a cookbook that sits in grabbing distance, as essential to our family's cooking as preheating the oven.
So, what's good enough to make it into the family cookbook? My pick is our first joint recipe as a couple: Cucumbers with Miso Tahini Dip.
Easy reusable recipes are crucial right now. We're living in San Francisco, planning our wedding in Baltimore, and the time crunch is definitely influencing which recipes make it through our kitchen. Am I whipping buttercream frostings and making complicated pastries? Well, once in a while, because carbs and a house that smells like hot butter are my version of meditation. But more often than not, I'm looking for the simple, flavorful, and versatile. And if it reminds me of a beloved vacation? Bonus.
I was in Japan for a month last fall. Jetlagged and giddy, I spent my first night in Tokyo devouring piles of soft dumplings with crispy caramelized edges. They were perfect (Seriously, dumplings will cure jet lag. You heard it here first.), but the stand out dish of the night was rough crisp hunks of cucumber drizzled with a gritty, salty sweet miso sauce. There was almost no room in my suitcase for souvenirs, but this dip was coming home with me.
This is the closest I've come to recreating that magical salty sweet miso dip. We serve it at dinner parties with raw veggies and smear it on salmon before we pop it in the oven. It's also heavenly on roast vegetables, and if you thinned it with water, it would make a great salad dressing. In my house, the favorite version of this is actually for breakfast: cucumbers on top of sticky rice, drizzled with miso tahini dressing.
This joyful, simple recipe is my next entry in my family's cookbook. Do you have a family cookbook? What's your favorite new family recipe?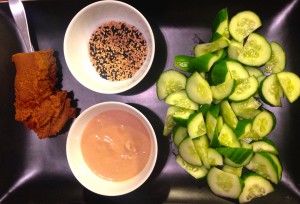 Miso Tahini Dip with Cucumbers
Serves 4
2 European Cucumbers
½ cup tahini
1 cup miso
2/3 cup water
2 tablespoons brown sugar
1 teaspoon sesame seeds
Roughly chop cucumbers into bite sized pieces. Heat water over medium-low heat in a saucepan on the stove. Add miso and tahini. Stir continuously for five minutes, until tahini, miso, and water are fully combined. Stir in sugar. Let the sauce cool for two minutes. Drizzle on top of cucumbers. Top with sesame seeds.
Recipe Notes:
For a more authentic flavor, replace the brown sugar with mirin or sake.
Every part of this recipe is flexible. I've used a variety of misos and I've used different sugars. If you lean more heavily on the miso or tahini, it won't ruin the dip. It will simply emphasize that flavor.
To change the consistency, change the amount of water. Less water makes this a paste, more water brings it closer to a dressing.