Take Action!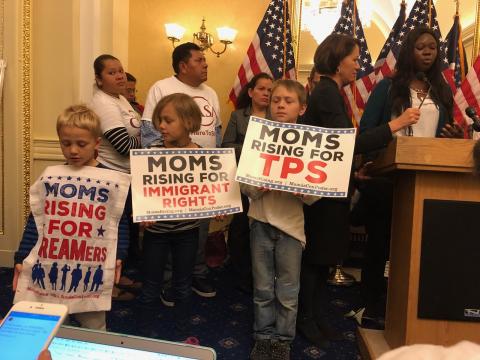 #FamiliesBelongTogether: Sign to OPPOSE the Ryan & Goodlatte bills!
Trump is using children as hostages to bargain for his anti-immigrant agenda! It's outrageous.
On Friday, President Trump suggested that he won't change HIS new policy of intentionally separating kids from their parents, unless Democrats agreed to his other destructive immigration demands. 
Trump's demands include passing a very dangerous bill proposed by Speaker Ryan. This bill will NOT end family separation. Instead, it would result in children being detained indefinitely in worse conditions, without basic standards for their care or well-being. It would also result in the near immediate return of other children to the very life-threatening conditions they are fleeing and from which they are seeking asylum (a legally protected right in both national and international law).
*Tell your members of Congress NOT to let President Trump and Republican leadership use children as hostages in order to bargain to pass Trump's anti-immigrant agenda!
What's happening?
On September 5 of last year, the Trump administration revoked the legal status of 800,000 DREAMers* that has allowed them to be able to work, go to school, and continue to contribute and live in the communities where they have grown up. 
Then in April of this year, Attorney General Jeff Sessions announced that the Trump administration would begin intentionally separating parents from their children at our border, reflecting a pattern of breathtaking cruelty by this administration — and within two weeks of this policy going into effect, more than 650 children were intentionally separated from parents at the border. After failing to pass a bill that protected DREAMers and also failing to protect children from family separation, U.S. House Republicans are proposing a vote on two awful, terrible, very bad bills that will give bare bones legal status to a small group of DREAMers in exchange for decimating the pathway to legal status and asylum for other immigrant children and families.
The first bill is a so-called "compromise" Ryan bill, which is not a compromise, but rather another very harsh attack on immigrant children and their families.
Here's what this terrible Ryan bill will actually do:
It Does NOT Not End Family Separations!
It Keeps Children in Detention For Longer Periods of Time. If passed the bill will allow for children to be kept in government detention centers for longer periods of time in jail-like hardened conditions without basic standards for their care or well-being.
Makes it Easier to Send Away More Children More Quickly. This Republican bill eliminates protections for young immigrant children and would allow DHS to quickly deport children without fully considering their asylum claims.
Shrinks the Number of Asylum Seekers By Making it More Difficult to Apply. It would change the law to facilitate the swift removal of asylum seekers and make it harder to apply for asylum.
Eliminates Special Protections for Children. The bill would terminate special protections for children in jail including suitable living conditions, routine medical care and emergency health services, and recreation time and counseling services necessary for the well-being and healthy development of any child. The bill would also prohibit any government funding for counsel for children — leaving many small children without a voice in the courtroom.
Completely unacceptable!
* Tell Congress to oppose both the Goodlatte and Ryan immigration bills!
The second bill is a bad faith bill, known as the Goodlatte bill that would provide legal status to only as little as 10% of DREAMers, which is completely unfair, while also:
-> Making it twice as difficult for Black and Latinx immigrants to gain legal status 
-> AND providing additional resources to the very immigration agencies that are separating kids from their parents and that have been found by the ACLU to be committing human rights abuses in the name of immigration enforcement! 
We all must speak up!
* Sign on to our letter to Congress now, telling them not to pass these terrible bills that endanger children and separate them from their parents.
The more people who make their voices heard, the bigger impact we can have. Please take a moment to forward this email to your friends and family and post this link on your Facebook and Twitter accounts: https://action.momsrising.org/sign/stop_family_separation_bills/
The United States of America, as we know it today, was founded in part by people who were seeking refuge in a new land. Our nation's aspirational founding ideals in the United States Constitution were that everyone should have freedom from oppression and persecution, as well as liberty and justice for all.
Those ideals haven't been met yet. We're still working on creating a "more perfect union," as written as an aspirational goal in the U.S. Constitution.
We can't allow human rights abuses in the name of immigration enforcement to continue to happen — and we also can't turn our backs on one another now.
It's time to reach for that "more perfect union," not tear it apart, not intentionally separate babies from their mothers, and not close the door to opportunity for all of us.
Thank you for all you do. Together, we are a powerful voice for families!
Want to do more? Read this next: https://www.momsrising.org/blog/how-you-can-help-to-end-family-separation-right-now
* Then watch this DREAMer's story: