Families Put Their Foot Down on Short-Sighted Thinking
If times are tough and you decide to sell your car to make ends meet, it might make sense if you rarely use the car. But if the car is your only way to get to work and earn a paycheck, you have just set yourself on course for a deep and long-lasting financial spiral.
The conversation in Washington around cutting Medicaid and training for pediatricians is not much different than selling off a vital vehicle. Slashing support for pediatric care won't solve our nation's debt crisis, but will rather lay the groundwork for bigger costs – both financial and human.
This week, 30 families are visiting their members of Congress to share their personal stories of illness and hope and to communicate why jeopardizing Medicaid and training for tomorrow's pediatricians is bad for every family in the country.
The children traveling to Washington, like Brandon Woods of Pickerington, Ohio, demonstrate the critical impact of care provided to children through Medicaid. Brandon was only five months old when he was diagnosed with a heart defect. The care he received at Nationwide Children's Hospital allowed Brandon to manage his health for five years. When his condition worsened in 2009, he received a heart transplant. With his new heart, Brandon can now keep up with his friends.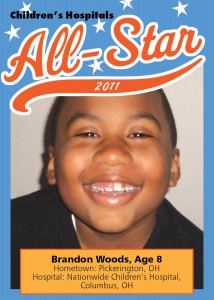 Statistics tell another part of the story. There's no doubt about the value in protecting all of the most vulnerable in our society – the elderly, the disabled and children. But within that spectrum, if you look at the numbers, you can see that care for children through Medicaid is actually a bargain. Children under age 19 represent more than half of all Medicaid enrollees, but they account for just 25 percent of the costs. In Fiscal Year 2008, Medicaid spending amounted to $2,587 per child, compared to $6,988 per adult and $14,295 per elderly adult.
What will children lose if Medicaid cuts become a reality? We know children already face troubles accessing the right care at the right time, and children will likely face longer waits and fewer choices if cuts are enacted. These delays in access can create more complex medical situations that will be costlier to address.
Innovation will also be jeopardized. Hospitals will face stark choices and the first programs to go will be the prevention-focused community initiatives that improve services, reduce health care costs and keep children out of the hospital. These are the very programs – designed to get better value for precious health care dollars – we should be supporting in this challenging budget environment.
Protecting Medicaid is an investment in our children's future and so is training for tomorrow's pediatricians and pediatric specialists. Yet, the sole federal program dedicated to training those pediatricians – the Children's Hospitals Graduate Medical Education program, or CHGME – landed on the cutting room floor in President Obama's proposed budget. By eliminating those residency positions, the nation's brightest young doctors are encouraged to bypass pediatrics to pursue other specialties.
Cuts to CHGME represent approximately 450 pediatric resident slots nationwide. That number may feel abstract, but the family whose child begins having seizures and is faced with a three-month wait or travel to another state to see a pediatric neurologist will feel that cut in a very real and immediate way.
We are proud of the families who have cleared time in their summer plans to come to Washington and make their voices heard in the cacophony of political rhetoric. You can help by taking a few minutes to write a letter to your member of Congress. To contact your member of Congress, visit www.childrenshospitals.net.
We hope that members of Congress will get the message loud and clear. Failing to protect pediatric care leaves families without a vital avenue to good health for their children and inflicts a tremendous cost on us all.
For more information on Family Advocacy Day, visit www.childrenshospitals.net or follow us on Facebook at https://www.facebook.com/#!/pages/National-Association-of-Childrens-Hospitals/69789157983 or Twitter, @speaknowforkids, #FAD11.