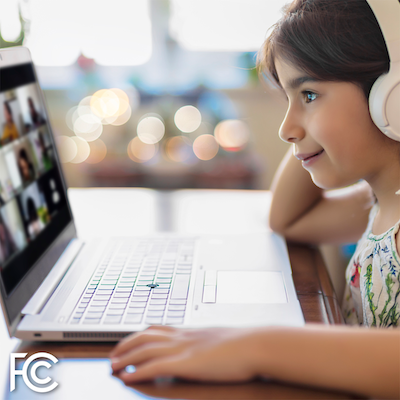 Families need accessible broadband in the pandemic
This month, people everywhere were collectively asking the same question: what should we get for mom?  Take it from this mom—a card and flowers are always nice, but, this Mother's Day, broadband access is what millions of moms really need. 
Here's why.
We all know that the pandemic has been disproportionately hard on women, and mothers of young children have been hit the hardest.  A McKinsey survey asked if people were thinking of leaving the workplace and found no difference between men and women without children.  That same survey found mothers with children under 10 were 77% more likely than comparable fathers to considering quitting their jobs.  There's a reason the image below from a recent New York Times story went viral. 
If you think about a lot of the things we can do to provide some relief to mothers as the pandemic stretches on, a common denominator is broadband.
A good internet connection can give you the flexibility to work from home, so you don't have to quit your job.  Being online also makes it easier to develop new skills and look for new jobs, which are almost exclusively listed online.
If you have home internet, you can arrange online doctor's visits for yourself and your children, which means you don't have to take time off of work or find childcare, are not only more convenient, but also safer if you have children who are vulnerable to COVID-19 and don't want to sit in a waiting room indefinitely. 
Helping your child thrive in online classes is challenging under any circumstances, but virtually impossible without home broadband.  But we know there are those who have tried to get their kids to class on a smartphone with a limited data plan.  Even if they can make it work for a while, doing homework assignments on a small hand-held device is rough, forcing moms and their kids to seek out Wi-Fi signals in fast-food restaurants and school parking lots. 
A home internet connection also makes it easier to find community with friends, family, other moms, or support in places like MomsRising, which should not be underestimated as a valuable lifeline when so many mothers are feeling stressed and isolated.
Unfortunately, nearly 1 in 3 women report being worried about paying for broadband during the pandemic—and, yes, that percentage is 5 points higher for women than men.  The lack of available or affordable broadband is an issue that far too many Americans face and it holds women and their families back.  The good news is help is on the way.
This week, the FCC launched the Emergency Broadband Benefit—a major new effort to help make internet service more affordable during this pandemic. Through this program, eligible households will be able to receive $50 discount off of their monthly internet bill. For those living on Tribal lands, the benefit is $75 a month. Additionally, eligible households are able to receive $100 of the price of a computer, laptop, or tablet. 
The Emergency Broadband Benefit is by far the largest ever broadband affordability program we've ever had. And it couldn't come at a more critical moment.  Families in rural, suburban, and urban communities alike are in dire need of this support. I encourage anyone interested to apply as soon as possible so they can get the most from this benefit. More information including ways we can all uplift and share this program in our own communities can be found at www.fcc.gov/broadbandbenefit. 
No one should have to choose between paying for groceries or rent and their internet bill.  Thanks to the Emergency Broadband Benefit, millions of moms won't have to.  That's my idea of a great Mother's Day gift.