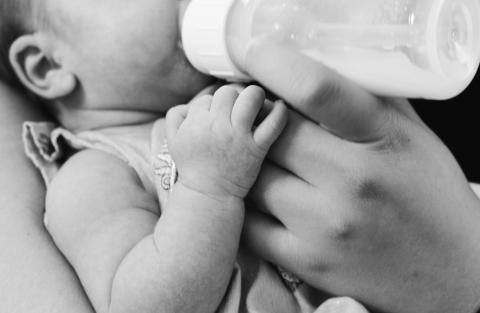 Families Nationwide Are Having Trouble Finding Baby Formula
My son is 7 months old and drinks a combination of breastmilk and formula. A few weeks ago, I went to buy more formula. After striking out at two stores, I stood in the aisle of BJs and started to panic. The shelves were completely empty of all Similac formula, including Similac Pro-Sensitive, which my son drinks. I have always kept a small stockpile out of fear of running out, but I had to return 8 cans after the recall in February. By the time I realized there was a nationwide shortage of Similac, I was down to 2 ½ cans. 
It's hard to fully express what it feels like when you are unsure if you can safely feed your child.
The last time I switched my son's formula we did it too fast and he got sick (spitting up, diarrhea, it wasn't fun). I have been hesitant to switch him again, knowing that if I could just get my hands on enough of his formula he will continue to be happy and healthy. I spent the better part of two weeks driving around searching for formula and collecting cans donated or given to me by other moms in my area that reached out after I posted in some parent Facebook groups. 
Right now we have enough formula to feed our son for about another 2 ½ weeks before we will have to seriously consider slowly switching him to another formula. I'm hoping it won't get to that point–that I'll be able to find enough formula to keep going or the shortage will be cleared up and the formula will be easily available again in stores.
A few days ago I sat down with Brian Dittmeier, Senior Director of Public Policy at National WIC Association to talk about how the shortage began and if there's an end in sight. 
Here are a few key points he made:
The reason why it's so critical is because this is essentially the majority, if not all, the infant's nutrient intake. 
We haven't seen an infant formula recall of this magnitude in quite some time. In the WIC space we haven't had to deal with this type of infant formula recall since 2010. 
Babies can't have whole milk before 1 year. Formula has its name because it IS a formula. It is a very complicated combination of materials to ensure that the right balance of nutrients are given so that your baby can grow up to be healthy. That combination is not going to exist in whole milk and it's not going to exist if you dilute the formula and it's not going to exist if you use one of the homemade infant formula recipes. 
Do not make homemade infant formula.
Do not feed whole milk to a child before age one.
And do not dilute your formula.
We are continuing to hear from WIC states that don't even have Abbott or Similac products, that use Enfamil or use Gerber that because of the ramped up demand across the country it's now leading to shortages in their states as well. 
This is not just going to be a problem finding Similac, this a problem across the whole market, WIC participant or not, this is an infant formula access issue at this point. 
In the long term this does raise questions about mandatory reporting about cronobacter, for example and stronger safety regulations so that we can figure out essentially what the challenges were this time and how we can remedy and prevent a situation like this in the future. 

It's often said that infant formula is the most regulated product of the FDA and this is exactly why. 
Need to find out if your formula has been recalled? Go to Similac's recall website, and enter the Lot Number. The site will tell you if it's been recalled. You can also call 800-986-8540 to find out.