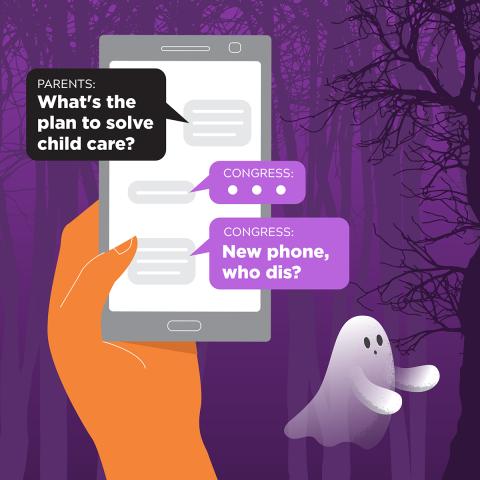 Families are tired of being ghosted by Congress on child care!
It's the spooky season – and the scariest thing I've seen this year isn't ghouls, zombies, or vampires. The bone chilling fright this year is that Congress keeps ghosting us on child care solutions. 
After exploring solutions the last few years to fix our fragile child care system, our elected leaders are now "new phone, who dis"-ing us and families aren't feeling it as the child care crisis gets scarier everyday. 
*Tell Congress: Enough with the tricks. We've got their number and we're here to tell them their work is not done and they need to take action now to fix our nation's child care crisis. 
How scary is scary? It makes grownups everywhere scream in frustration! 
A brand new study from Child Care Aware of America found that child care costs families more than most other household expenses (including housing and health care) in ALL regions of the United States.  
That means the child care crisis is haunting families in every single corner of our country.
These numbers get even more chilling when you think about rising costs on families. This same study found that the cost of child care outpaced inflation with most states showing the price of child care for two kids in a center exceeding annual housing costs by 28% to over 100%. 
Add your name to tell Congress to stop ghosting families! We need real child care solutions NOW! 
It shouldn't take a magic spell or potions to have the freedom to be there for our kids, to afford high-quality child care that meets their needs, and to simply have choices for our families. It just shouldn't be this scary for families. 
Thankfully, not everything is as goulish as it seems. The passage of the Inflation Reduction Act shows that our nation has more than enough resources to build a high-quality affordable child care system. For too long moms and other caregivers have been told that our country can't afford a comprehensive child care system that meets our families' needs. But the fact is that by simply closing some of the loopholes that allow mega-corporations to pay little or no taxes, we've managed to pay for legislation that provides major improvements to our healthcare system and fights climate change. 
The money is there! All we need to do is continue to close the loopholes that allow mega corporations and billionaires to avoid paying taxes so our kids, families, and child care workforce get the solutions they have been waiting on for far too long. 
EXTRA NOTE: Halloween is once a year, but the child care crisis is yearlong. So don't forget to share this with your friends, family, and parent/caregiver groups and ask them to sign on too.