Every Child Deserves the World
There's a school just outside L.A., where all the students are classified as "poor." Until a few years ago, the school's location was considered part of a gang's territory, with a violent history. Crossing the line to get to the Vaughn school meant you were taking your life into your own hands. But the day I walked into the high school now known as Vaughn International Studies Academy (VISA), groups of students were preparing to take the stage for a Chinese New Year celebration, packing red silk vests as their weapon of choice. The freshmen sang first, and seniors sitting in the front of the assembly were singing along to the Mandarin lyrics. Later, a few girls showed us their local environmental education initiative and we joined another group during their lunch period where they were planning a simulation of a Darfur refugee camp experience which they'd help middle schoolers to lead.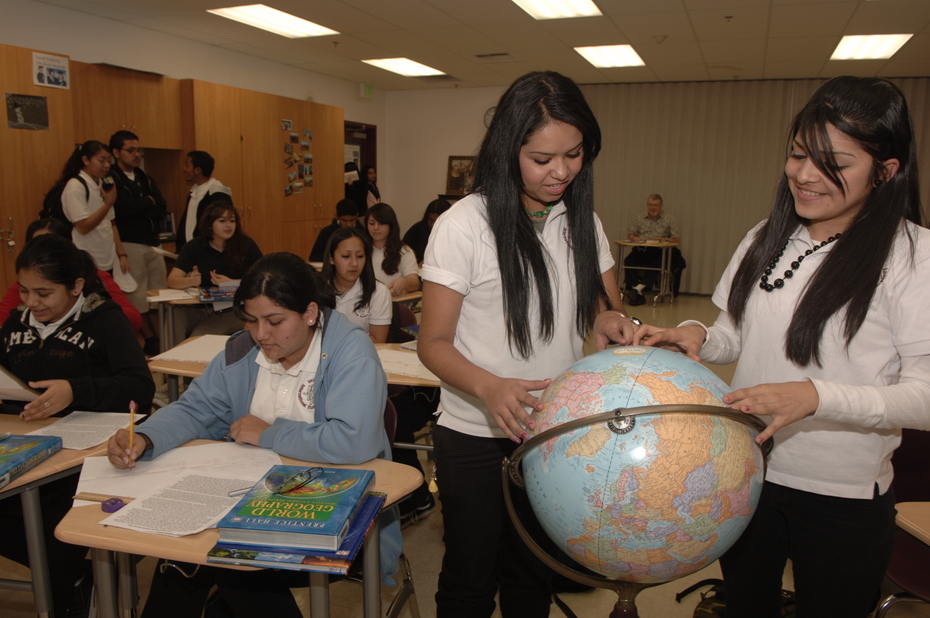 Students at VISA learn about the world. Photo credit: Eric O'Connell
Instead of adding to the accounts of failing schools and drop out students, this story from L.A.'s San Fernando Valley demonstrates the power of global education for transformation – on a local level.  When school principal Stan Leandro, himself a child of San Fernando, CA, took Tony Jackson, Vice President for Education at the Asia Society, and me for a tour of the school, we met kids like Oscar, who proudly announced that when he came to VISA he started with four "F's" and two "C's" but his last report card resulted in four "A's" and two "B's." "Mr. Leandro, why didn't I get the most improved prize?" he pleaded. "You did great; but you're gonna reach higher," was the gist of the principal's response, who somehow seemed to know how all his kids were doing. Oscar seemed happy with that. And in class after class that we visited, we saw great learning environments for core classes like English, Math and Science, with engaged students and teachers – the kind of place every child deserves to learn in.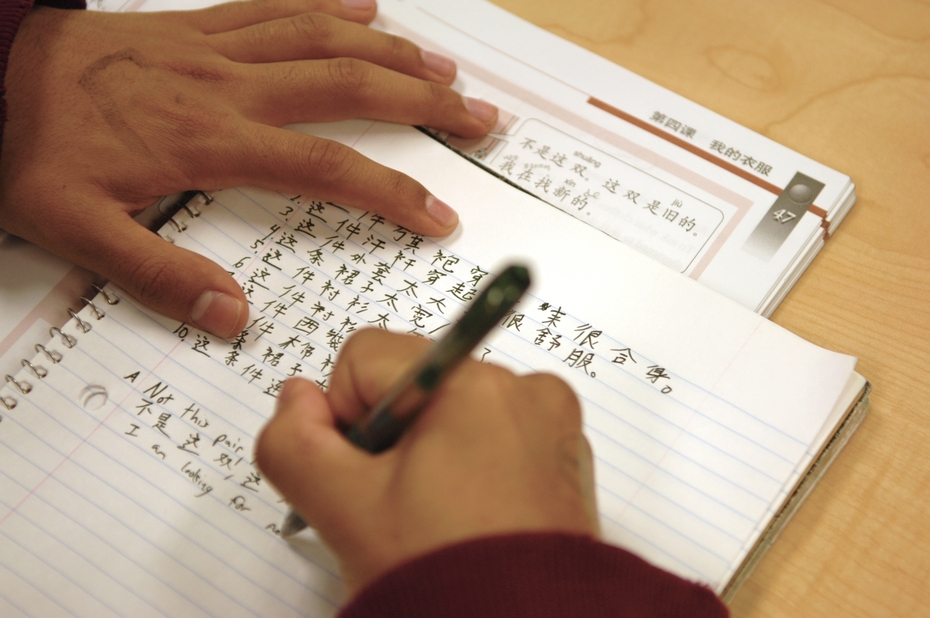 Student writing in Mandarin. Photo credit: Eric O'Connell
Flags of the world adorn the entrance of the school. I asked Mr. Leandro if this, along with the Chinese language requirement, is what makes the place so special. "No, it's not.  See the banner in the middle?  We're displaying our progress yearly in state-wide tests." So, is that steadily rising performance what makes the school so special? "No," he said, "that's just a reflection of what we're building."  He went on to explain that their "core values" are fueling a cultural shift – and this is the difference.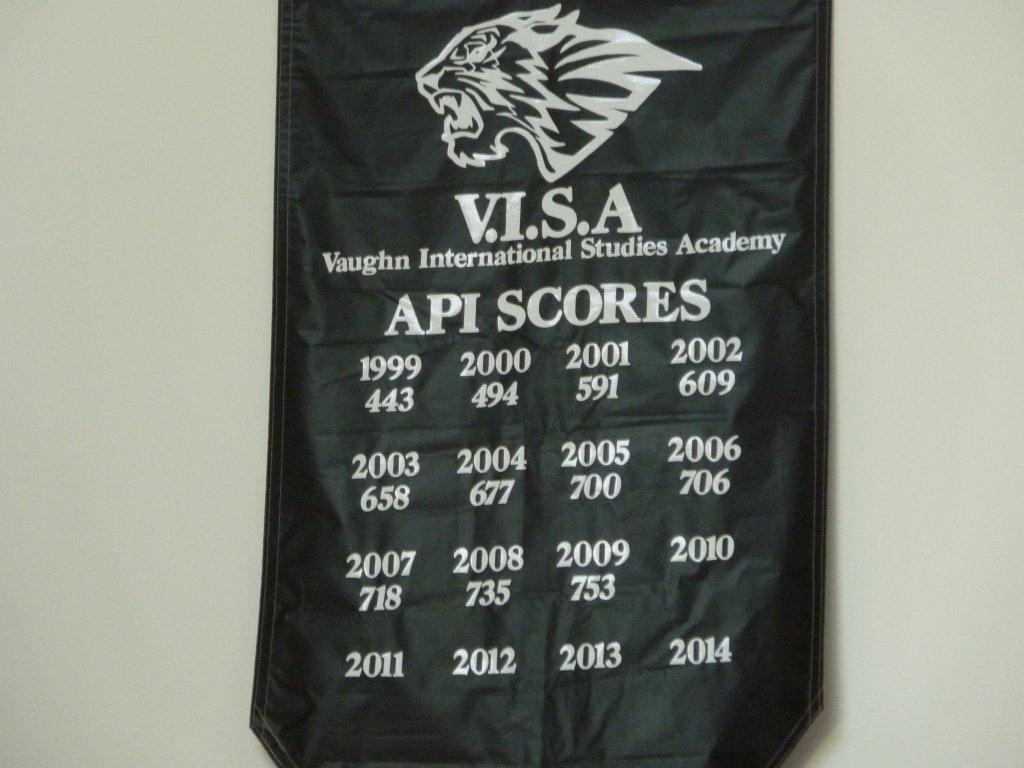 VISA's API scores is something to be proud of.
As a member of the Asia Society International Studies Schools Network , VISA's teachers and staff are trained to prepare children to be globally competent and college/work ready. The adoption of a mind-set that helps the students to see themselves as part of a bigger world, with valuable skills and the motivation, or simply the HOPE, that they can build a better future, empowers them to achieve and succeed. The school taps into global learning opportunities and service engagement at the local and global levels to help transform the culture into a positive one. The students still have a long way to go to reach the top echelon of SAT scores and many remain at-risk, but the context of global learning offers an important means for changing the lives of these youth living under the poverty line, with hopes and dreams to rise above.
VISA's example shows that global learning is powerful, and for any child – despite the odds against them. Previously this might have been the exclusive domain of elite children who could travel abroad. Today, we can't afford to keep it exclusive. Our economy and even our national security depend on raising a generation that's not just plugged in, but connected, truly connected on a human level.  Academic environments help this process by teaching world languages, literature from many parts of the world, scientific learning that transcends national boundaries. They adapt best practices for education from around the world, and celebrate inclusiveness and diversity as part of their operating principles.
Home environments can reinforce these efforts. Simplest acts, like grocery shopping together for one new variety of produce junior has never tried before, or renting a family-friendly movie set in a different country; and more profound steps, like making friends across boundaries and engaging in dinner table conversations across generations can launch your child on a process of feeling at home in the world, like a global citizen. These don't cost much, and we can't afford not to do this for our kids.
Please check back for ideas you can use at school and at home for all our kids to "grow up global" and please share what's worked for you.
—————-
Homa Sabet Tavangar is the author of Growing Up Global: Raising Children to Be At Home in the World. She is the mother of three aspiring world citizens, ranging in age from 6 to 16.