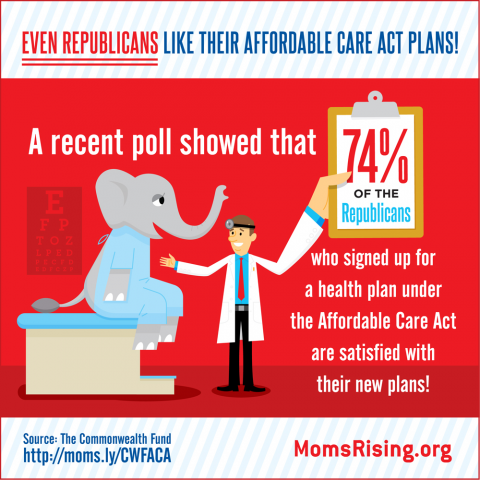 Even Republicans like their ACA plans!
Even Republicans like their Affordable Care Act plans!
A recent poll by The Commonwealth Fund showed that overall, 78% of Americans who signed up for coverage under the Affordable Care Act are satisfied with their coverage. Even 74% of the Republicans who signed up say they are satisfied with their new plans!
The Affordable Care Act is working.
Nationwide, the rate of uninsured Americans is dropping at a record pace. The reason is clear - new coverage options under the Affordable Care Act have made health coverage affordable and accessible to millions of adults and children.
It is important for us to get the word out that the vast majority of people who got coverage under Obamacare are satisfied! Why? Because the naysayers are still hard at work trying to undermine the new law instead of working together with supporters to continue improving access to healthcare.
Can you help us get the word out by sharing this fun graphic on your social networks? Simply click the button to share the image on the social media outlet of your choice.