Lucy Marsh has been a full professor at the University of Denver School of Law since 1982. She started teaching there in 1973. By all accounts, she is a well respected, talented professor, good at her job and involved in the community. By my account she is one of the few female professors I had teach me in law school.
And she is also the lowest paid professor on the faculty at the DU School of Law.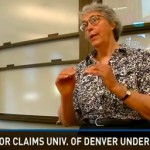 Lucy Marsh is Lily Ledbetter. She represents all women, of all income levelsand backgrounds, with all types of families, who have worked hard their entire life, expecting equal pay for equal work. Only to find out, that fair pay was never a reality for them. Female full professors at DU Law School on average earn $15,859 less than their male counterparts.
Professor Marsh taught me the importance of the law and about rights. It is wrong her rights and her impact on students like me, especially young women, have been ignored. She deserves to be paid equally.
I went to law school to learn about how to use the law to protect the rights of all people. A law school should a be place where the laws are followed. A law school should also lead when it comes to fairness and equality. I am disappointed in my alma mater for apparently failing to honor these principles.
Fortunately, Professor Lucy Marsh is standing up for herself and for all the women at DU Law School and at law schools across the country by filing a lawsuit for this discrimination. She represents all women, and the 23 percent wage gap we continue to face in this country. With this suit she plans to fight for equal pay for equal work. And I stand with her.
It is time all women have equal pay for equal work. Join me, and 23 fellow law students from DU, in signing this petition supporting Professor Lucy Marsh's fight for equal pay for all women at the University of Denver School of Law. (Open to all not just DU Alumni.)
Ashley Wheeland, J.D.
Graduate, DU Law School Graduate 2010
Below are my fellow DU Law Alumni signers of this petition:
Carlos Migoya, Graduate, DU Law School Graduate 2004
Faye Diamond, Graduate, DU Law School Graduate 1987
Chantell Taylor, Graduate, DU Law School 2001
Jason Harms, Graduate, DU Law School Graduate 2004
Maha Kamal, Current DU Law Student, Class of 2013
Ali Mickelson, Graduate, DU Law School Graduate 2006
Jason Cobb, Graduate, DU Law School Graduate, 2005
Ciara Fernandez Faber, DU Law Class of 2011
Leslie Oliver, Graduate DU Law School Graduate 2004
Nicoal C. Wolfe, Graduate, DU Law School 2011
Kirpal Singh, Graduate DU Law School, 2004
Jacque Phillips, Graduate, DU Law School Graduate 2010
Danielle Morrow, Graduate, DU Law School Graduate 2010
Sandra Downhour Cochran, DU Law School Graduate 2011
Amber Lynn Blasingame, Graduate, DU Law School 2011
Rachel Oliver, Graduate DU Law School 2011
Kim Sargent Utesch, Graduate DU Law School 2011
Brent Chicken, Graduate DU Law School 2004
Gennevieve St. Leger, Graduate DU Law School 2013
Charlene Krogh Jones, Graduate DU Law School 2004
Angela Padilla, Graduate DU Law School 2010
Carl Charles, Current Student DU Law School 2013