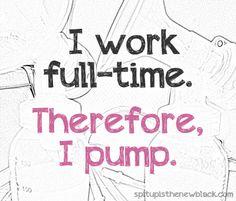 Employers of nursing mothers think outside the bathroom stall
A provision was added to the Affordable Care Act in 2010 requiring that employers
"provide a reasonable break time for an employee to express breast milk for her nursing child...and a place, other than a bathroom...which may be used by an employee to express breast milk." The health benefits of breastfeeding for babies and mothers is widely known. Did you know that employers benefit, too? Workplaces are enriched by breastfeeding with lower healthcare costs, lower absenteeism rates, higher productivity, lower turnover rates, as well as loyalty by breastfeeding employees. Even well-meaning employees may find the challenge for complying with the mandate insurmountable without tangible resources.
Well now, there is a comprehensive resource chock full of ideas and examples to help employers comply with the regulation. Learn more about it on Thursday's webinar: "Making It Work: Using New National Tools to Help Employers Support Nursing Moms".

 
The new website includes suggestions - by industry - for retrofitting existing spaces, creating shared lactation spaces for employees of multiple businesses in one area, etc. The webinar will be devoted to employers of hourly, overtime-eligible employees and those who work in challenging environments.
On Thursday, September 4th,  there is a live webinar presented by Altarum Institute with the Office of Women's Health, Every Mother, Inc., the California WIC Association and the California Breastfeeding Coalition to walk businesses, local and national, through the elements of the website and examples of businesses that have made successful modifications to support nursing employees. Any and all business are invited to attend!
Webinar title: Making It Work: Using New National Tools to Help Employers Support Nursing Moms
Date and time: Thursday, September 4, 2:00 - 3:200 PM ET