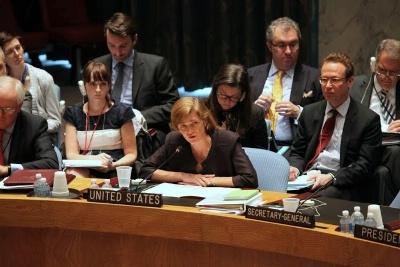 Empathy is everything: A lesson from my mother, the doctor
My mother, Dr. Vera Delaney, is a kidney doctor, or nephrologist; she inhabits a very different world than that of diplomats. The closest she came to working in international affairs was when she navigated the American immigration system, bringing her two kids, a nine-year old me and my five year old brother, to the United States from Ireland in 1979. Though she has been seeing patients for nearly four decades, her eyes still light up, as I imagine they did when she was a medical student, as she marvels daily at medicine's wondrous ability to help when the body's own armor fails. She still practically skips to the mailbox to collect her New England Journal of Medicine and her JAMA, which update her on the latest discoveries and innovations in medicine.
Growing up in a home where work offered her such joy, my only professional ambition was to find something I could love that much. Nauseated by the sight of blood, it was clear early on that I would not follow in her footsteps, but I have been blessed to be able to find a career that has never felt like work. I must say, though, that as a diplomat confronted by violence in Syria, Ukraine, the Central African Republic, South Sudan, and elsewhere, I have a whole new sense of envy for my mother's -- and science's -- sense of forward progress.
On this Mother's day weekend, I want to share one lesson I have learned from my mother, which proves to have application well beyond medicine.
Empathy is everything.
Some of my earliest memories are of my mother's stories about her patients. When she worked in the emergency room, she told tales of patients who survived car crashes and gunshot wounds, fueling my imagination. When she was working as a nephrologist, it wasn't just kidneys she brought home. There was my mother's deep melancholy over one patient's latest miscarriage – only to be followed by her happiness over this woman's subsequent pregnancy, her stress over the patient's complications in that pregnancy, and her eventual joy at the birth of this woman's magical baby boy. Each of these patients – the ones that drew my mother's curiosity or her affection – became virtual guests at our dinner table as I grew up. Sometimes she couldn't even finish a story about a patient because some line of theirs cracked her up so much and she couldn't stop laughing. Sometimes she couldn't mask her sadness when her treatment and her care proved not enough: "he was one of my favorites" she would say getting up quickly from the table so as to hold back her tears. I never met these nameless patients, but, because of the way my mother engaged with them, I followed their ups and downs as if they were family. 
And I learned the importance of looking at patients and seeing, not only symptoms and diseases, but individuals. I never really paused to marvel at just how many patient details my mother retained right alongside drug regimens, patient histories, and the latest science discoveries. But now that I think about it, it isn't just that encyclopedic retention that is worth pausing over; it is how much patience – and presence – it took for her to glean all of those details.
As a diplomat, I firmly believe that we are better at advancing U.S. interests when we understand where people around the world are coming from, what motivates them, what saddens them, what inspires them, how they got where they are.
If you ask me what makes a successful doctor, it is the same thing that makes a successful diplomat: listening and seeing what's in front of you, respecting and cherishing the inherent – inviolable -- dignity of each individual, meeting people not where you're at, but – at least at the start – where they're at. 
Thanks Mum, for this and so many other important lessons you've taught me over the years. Happy Mother's Day.
- Ambassador Samantha Power
(To read more lessons from my mother, check out the speech I gave to the graduating class of Mt. Sinai Medical School this past week.)