Recipe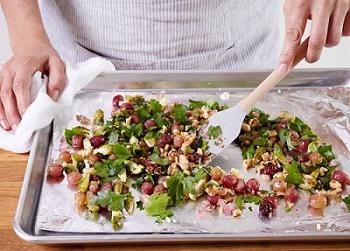 Easy, Healthy Holiday Side Dish: Brussels Sprouts with Grapes & Walnuts
Side dishes don't often get the the attention they deserve during the holidays. Personally, I love side dishes and often eat them as stand alone dishes (I'm weird like that!). What I love most is how easy they are to create and serve. And because they're pretty easy to make, you can easily pass this recipe on to that relative, or friend, who hasn't yet learned how to cook so that they can contribute and prepare it for your holiday gathering feast.
One of my faves, the "Brussels Sprouts with Grapes & Walnuts", is an easy peasy recipe I received from Terra's Kitchen. Brussel sprouts are chock full of vitamin C and vitamin K, making them a healthy addition to any meal. But I'll be honest, it's the addition of the sweet grapes and the crunchy walnuts that make my sons' reach for seconds. They just wouldn't eat brussel sprouts if I served them alone!
Try it out and let me know what you think. My hope is that you'll enjoy this recipe as much as we do!
---
Brussels Sprouts with Grapes & Walnuts Recipe
*Makes 2-3 servings, double or triple the recipe for the holidays
Ingredients:
2 cups (about 7 ounces) of halved Brussel Sprouts
2 cups (about 7.5 ounces) of Grapes
1/2 cup of shelled halved walnuts
1 tablespoon of Olive Oil 
2 cloves of garlic
3 tablespoons of shallot
1 teaspoon of salt
1/2 teaspoon of pepper
Instructions:
To make, preheat your oven to 375° F.
Line a baking sheet with foil (this really helps with cleanup).
On the baking sheet, add the Brussels sprouts, grapes, garlic, shallot, olive oil, salt and pepper and mix, making sure to spread it evenly over the baking sheet.
If you're using halved walnuts you can add them in during step 3. If using chopped walnuts toss them in during the last 5 minutes of roasting.
Roast until sprouts are tender and golden brown. Depending on your oven, this can take about about 20 minutes.
Serve and enjoy!
NOTE: If you don't like walnuts, you can use pecans or almonds. Also, I've made this recipe with fresh and frozen brussel sprouts. I think fresh tastes best; however, if all you have are frozen, go at it! It'll still be a very tasty dish.
Photo credit: Image courtsey of Terra's Kitchen