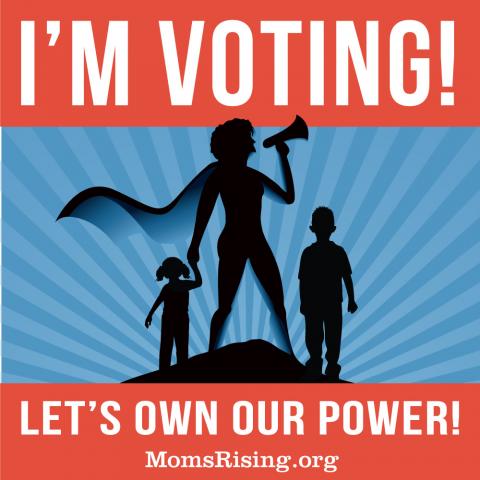 Early voting has opened in NC! Get all your voting info here.
It's ON, North Carolina. After an election season unlike any we've ever seen before, it's your turn to have the final say when you head to the voting booth. Early voting locations are open for you to cast your ballot now. It's time to own our power!
Early voting opened in North Carolina on Thursday, October 20th, and lasts until Saturday, November 5th. It's the easiest way to make a plan to vote and avoid potentially long lines on Election Day. And–if you missed registering to vote by the October 14th deadline–you can still register and vote during early voting in North Carolina.
MomsRising has put together a quick reference for you to make sure you have everything you need to make your vote count this year. 
Voting Information:
Voting dates and locations: You can either vote at an early voting location from Thursday, October 20th, until Saturday, November 5th, or at your polling place on Election Day on Tuesday, November 8th. To find early voting times and locations in your county, click here. If you live in Columbus, Cumberland, Lenoir, Pitt, or Robeson counties, some early voting locations have been changed due to damage from Hurricane Matthew. To check your voting location, visit http://www.ncsbe.gov/Elections/Hurricane-Matthew
You do NOT need an ID to vote in NC this year (the courts struck that down) unless you will be using Same Day Registration during the early voting period.
Registration: If you miss the 25-day registration deadline, you can use Same Day Registration during Early Voting. (It is not an option on Election Day.)
To use Same Day Registration, you must provide one of the following documents to an election official at an Early Voting location:
•   NC driver's license
•   Other government photo ID with name and current address
•   Utility bill, bank statement, or payroll stub with name and current address
•   Student photo ID with a school document showing the student's address
•   Any document from any government agency with the voter's name and current address.
Not sure if you're registered? Check your voter registration here!
Got voting questions? There have been a lot of changes to NC voting laws recently, and we want to make sure you get all your questions answered. Our partners at Democracy North Carolina have put together a website designed to answer all your voting questions. Check it out at ncvoter.org. You can also visit the NC State Board of Elections for resources.
And now you can make voting an experience for the WHOLE family!
If you live in Durham or Charlotte, make plans to vote with MomsRising at one of our family-friendly early voting parties and parades! We'll be decorating super voter capes, having voting-themed story times, and letting kids cast their own ballots before we parade to the polls for parents to cast their votes. RSVP here for the Durham celebration on Saturday, October 29th, or here for the Charlotte party on Saturday, November 5th.
Click here to download our early voting party toolkit complete with craft ideas, conversation starters, and children's book suggestions all designed to help make voting fun for the whole family!
As you head to the polls, keep a lookout for our Mobile #MomsVote Teams who will be in communities across the state helping provide activities for children while they wait in line for their parents to vote. We'll have units out in Winston-Salem, Asheville, Raleigh/ Wake County, and Durham. Not in your county? Download the activity sheets here: coloring sheets, crossword puzzle/ wordsearch, and Voter I Spy.
Join us for a special early voting tweet chat. MomsRising is partnering with Democracy North Carolina and El Pueblo for a special early voting tweet chat on October 25th at 2pm ET. Mark your calendars and plan to follow along and chime in with any questions at #VotoLatinoChat.
The voices of North Carolina moms and those who love them are powerful–but only if we use them. Make your plan to vote today!