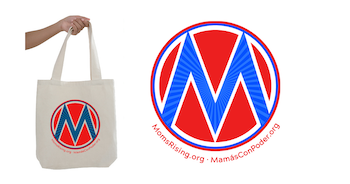 Early bird gets the MATCH
It's just two weeks until Giving Tuesday, Dec. 3! This may sound like a gimmicky day, but celebrating our local sheroes and, importantly, contributing to lift up our democracy and our families isn't a gimmick. It's us together stepping forward to address a national emergency with hope, joy, and optimism for our futures.
So to celebrate this beautiful day of generosity, we're highlighting our committed, we-can't-believe-how-lucky-we-are-to-have-them-on-our-team-with-us MomsRising Champions — like Rachael! In fact, you can scroll down to read a bit about Rachael, including why she decided to become a MomsRising Champion contributor. (MomsRising Champion contributors are loyal supporters who make small, steady monthly contributions to fuel bigtime MOMentum, hope, and change all year long.)
Can you join us and Rachael in rising and help us turbocharge the moms movement in 2020?
Your dependable support will help every member of the MomsRising family — including you! — to Keep Rising, to keep speaking up, and to keep winning life-changing progress for women, moms and families.
Keep Rising: Become a Champion in honor of Giving Tuesday and a sister MomsRising donor will match your monthly contributions for an entire year.
Every gift gets a MomsRising sticker...and you can pledge $10/month to get a cool MomsRising tote as well!
Can't commit to monthly giving? Make a one-time contribution instead — still matched $1-for-$1!
MEET RACHAEL
"MomsRising is a lively well organized group I am pleased and proud to support. When I think about good ways to spend my money, contributing to causes that reduce suffering and increase joy, I look to those that address a broad coalition of our society. Mothers (and fathers) are among the most broad and committed group I can think of. I am a mother of two, grandmother of six, and the owner and manager of a business employing fifty people, many of them mothers and fathers. The activities of MomsRising regularly remind me how we can find commonality in our efforts to invest in our children's futures."
There are hundreds of people like Rachael who have made a monthly Champion's commitment to create a brighter future for women, moms and families.
I hope YOU consider becoming our next Champion today too, because your help is very much needed. We have bold plans to amplify our winning strategies in the coming months and years, including a massive effort to train volunteers and mobilize voters in under-represented communities.
If we recruit 100 new monthly Champions now, we'll be able to start 2020 off strong, with the potential to scale up critical initiatives that the MomsRising movement needs to win.
Your support in this moment is so important.
Remember, when you contribute, a sister MomsRising donor will DOUBLE your donations for an entire year, giving you 2X the power to help women, moms and families rise.
Thank you for your continued compassion and generosity.