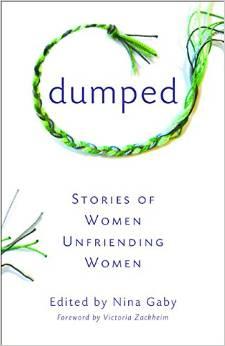 'Dumped' Gripping from Beginning to End
Dumped touches a nerve from page one. It touches on a subject that all women know too well yet is too complicated and painful to articulate: the mourning, and sometimes redemption, that comes from being dumped – or in Facebook-speak, "unfriended" -- by a sister-like friend. 
The anthology is very well written by established authors and bloggers, and covers the gambit of being dumped by downright bullies to friends who simply grew apart.
At the start, I was appalled by some of the women's stories. Let's clarify: these women weren't dumped. They were bullied. A couple of the women were isolated in high school and required therapy as adults. In perhaps the most chilling account, the whistle blower of the Steubenville, Ohio high school rape by star football players was publicly betrayed by her childhood best "friend" Kathy. Kathy publicly published the author's secrets and home address on Twitter, and in cult-like fashion, had others bully her supporters.
"How do you recover from this type of betrayal? Most people would say you can't. But I have. I feel sorry for Kathy that she chose to jump on that passing wagon, using my trust in her as a means to validate her existence with the other haters. I never lashed out at her publicly. I never broke her confidence. Instead, I sat by and watched as she attempted to destroy anyone that I cared about just to get back at me for speaking my mind and pointing out an injustice, and speaking the truth about our town." –Alexandria Goddard, "Breaking Omertá"
Goddard raises a very good point: how does one recover from such an act of betrayal? As many of the writers pointed out, when such a sacred trust between two girlfriends is broken, this can leave emotional scars for the rest of a woman's life. You simply expect more – better -- from your sister, or sister-like friend, more so than a romantic partner or a guy. Being dumped in such a violent fashion is rattling to say the least.
Not all of Dumped was morose or tragic. I found it relatable and therapeutic. Some parts were funny, especially by writers who had long moved on and were able to laugh at themselves. One such writer was Alexis Paige, who "broke up" with her best girlfriend and maid of honor right before her wedding. At the end of her essay, "Bridezilla or Chill Bride?" she had this to say:
"The story went that no one calls me a bridezilla and gets away with it. The story went that we had merely grown apart, had different interests. But the truth was I had broken my own heart with pride and stubbornness and timidity. And I fought for three years with this pride and stubbornness before I finally responded to Emily's last e-mail. I was wrong. I miss you. I miss us. I would have to learn how to fight for the women in my life. I would have to learn how to fight, ultimately, for myself….
"Women are difficult, you learn; women are gossipy, small, vindictive, dramatic, competitive, backstabbing, vain, selfish, slutty, stupid, emotional, mean, shallow, materialistic, and without intrinsic value. Insistence makes the lies seem true; just ask Fox News. And after a while you believe what you've heard about women, and invariably about yourself, and one day some guy, a stranger, calls you a c*nt in public for sticking up for someone else, or your boyfriend calls you a slut, or a dear friend calls you bridezilla, and eventually you can no longer separate yourself from the machinery from the machine. You can no longer remember your own innocence."
In many ways, Dumped imitates other real-life experiences whether it's surviving workplace politics or making a romantic relationship work. It's about building something together, creating memories, and then learning to let go. It's about resilience, and ultimately learning that, sometimes, it isn't about you. 
Title: Dumped: Stories of Women Unfriending Women
Release Date: March 15, 2015. To pre-order go to Amazon, Barnes and Noble, or Indie Bound.