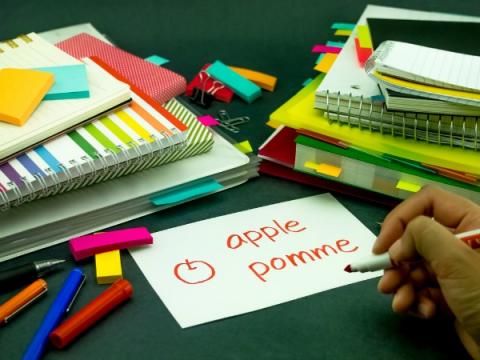 Dr. Fabrice Jaumont offers insight on dual language program creation in NYC
*** Want more information on raising multilingual children? Visit MomsRising's bilingual parenting resource site: http://action.momsrising.org/survey/bilingual_baby/?source=blog
Dr. Fabrice Jaumont is the Education Attaché at the Embassy of France in NYC. In that role, he has played an instrumental role in the creation of French dual language programs in New York City and has also helped parents interested in opening programs in other languages navigate the DOE system.
You've been responsible for an explosion in French dual language programs in NYC. What are the key elements needed in order to bring a program to a school?
Most French-speaking families in the U.S. want their children to maintain their French language skills while adapting to their new American environment. Non-French families value dual language education particularly in a public school setting. In the case of New York City, both groups were able to unite to create successful French-English dual language programs in public schools.
In my opinion, empowering parents is key. I want to inspire them to become bilingual advocates for their community's sake. I found that, with some guidance, they can get their project off the ground. My upcoming book, The Bilingual Revolution will provide parents with the tools to start a program, how to put up information sessions, organize volunteer groups, canvass the neighborhood, and work constructively with school principals and teachers.
What advice do you have for parents who are interested in starting a Dual language program in their community? How do they start?
If parents organize themselves well, and sustain their determination, even if faced with significant challenges, they can become a force to be reckoned with in public education, and are able to create access to these bilingual programs for children of diverse socio-economic and ethnic backgrounds.
Many dual-language programs begin with grassroots campaigns led by parents. I invite parents to follow the French Embassy's Web page  the NYC Department of Education's page, or FACE Foundation. I also invite parents to follow my blog or visit The Bilingual Revolution Facebook page for updates.
What would you say to parents who face resistance from the community or from education officials?
Parents initiate many dual language programs, however, it can sometimes be difficult to garner the support of principals and teachers for bilingual education in the schools that will sustain these programs. Often these administrators are themselves monolinguals and are not necessarily knowledgeable about bilingual education. This makes advocating a challenge for parents in many countries and demonstrates how crucial it is to make sure that everyone involved in the implementation of dual language programs is knowledgeable about bilingual education and bilingualism.
For each program to succeed, everyone involved must agree that a dual language program will be beneficial to the school as well as the students. It is crucial to ensure that everyone is well-informed about bilingual education and bilingualism.
How many French dual language programs exist in NYC? What makes these programs successful?
There are 10 French dual language programs in New York City, 7 elementary schools and 3 middle schools. We are currently building an exciting high school program at Boerum Hill School for International Studies in Brooklyn. The school offers an International Baccalaureate program combined with a French dual language program.
For these programs to succeed they require strong partnerships within a community — commitment from schools' leadership, the installation of qualified, dedicated teachers, and ceaseless involvement from parents at all levels. If this occurs successfully, schools hosting these programs can benefit from diversity of both the population that they serve and their teaching staff, enabling them to incorporate positive linguistic and cultural differences into pedagogy.
What are the challenges that parents may face as dual language parents? Can you recommend any resources?
I think the main challenge is to get rid of the many misconceptions and myths around bilingualism and bilingual education. And to do that, it's best to listen to what the experts say. Two years ago, I was fortunate to host a livestreamed conversation with world-renowned psycholinguist and specialist on bilingualism Francois Grosjean. I recommend reading Francois Grosjean's book, Bilingual (2010) and his blog too. I also recommend Rita Rosenback's blog, Multilingual Parenting which offers great tips.
Finally, for an overview of the research on dual language education, I recommend reading Virginia Collier and Wayne Thomas's seminal paper, The Astounding Effectiveness of Dual Language Education for All.
How do dual language programs impact school culture?
Through my research, as well as my professional and personal experiences, I have found that children who have had a bilingual upbringing enjoy numerous benefits beyond the acquisition of another language, including a better appreciation of other cultures, other individuals, and even oneself.
Additionally, I have come to believe that the cognitive, emotional, and social advantages of being bilingual, biliterate, and multicultural should simply not be limited to exclusive schools and those who can afford to attend them.
In my opinion, dual language education is a great public good that ought to be developed everywhere, as it can positively transform a child, a family, a school, a community, and even a country.
For more information on French DLPs in NYC you can click here.
About Fabrice Jaumont
Dr. Fabrice Jaumont is the author of Unequal Partners: American Foundations and Higher Education Development in Africa (Palgrave-MacMillan, 2016). His upcoming book, The Bilingual Revolution,
focuses on the development of dual language and immersion programs in public schools in the United States. Fabrice Jaumont holds a Ph.D. in International Education from New York University. He currently serves as Program Officer for FACE Foundation in New York and as Education Attaché for the Embassy of France to the United States.