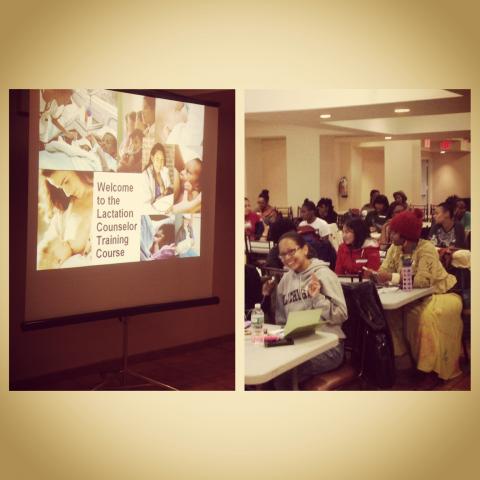 Doula trainings creating a united front of support for infant feeding
Tell us about Ancient Song Doula Services (ASDS) and how it began.
Ancient Song Doula Services began the Fall of 2008 after the birth of my first child at home with a midwife and a doula.  In my own journey I realized that there wasn't enough information or services around primarily focused on women of color, especially within low income communities. I realized the difficulties I faced being economically stable, having private insurance and being able to find care that spoke to me.  So, I decided to create what I thought was lacking at the time. Culturally competent care that allowed a consumer to make an informed decision about their care that catered to the full spectrum of needs within the community.
Tell us about an experience you've had that conveys the importance of ASDS.
Two years prior to me meeting my husband I was walking through Union Square and happened upon a Natural Birth Expo. It was a powerful moment for me. I have been an activist and thought I was pretty well-informed about reproductive health until that day. I met midwives and doulas of color and was shocked that I had not heard about the option to birth at home or that midwives and birthworkers of color existed. That moment shifted my perspective on how I viewed my own care and planted a seed for change.
What data do you use to show the importance of breastfeeding and the impact of ASDS in this area?
ASDS collects data based on demographics such as ethnicity, socioeconomic status, access to resources, living environment(ie, level of safety, lives in a shelter), doula assisting with breastfeeding within the first hour and skin to skin contact, as well as access to an IBCLC or CLC that understands the needs of urban communities of color and how we may access and consume information.
What is one thing the person reading this can do to support ASDS?
Of course, I can say make a donation! All monies go to offset the cost of doula services to mothers. I think most of all share the information with someone and volunteer. We are always looking for other mothers to setup and assist in advocacy and engaging the community around the issues that matter to them most.
What is an area of breastfeeding support that is being overlooked and what should be done about it?
How the information is presented to a broader audience. Breastfeeding (infant feeding) information needs to be presented in such a way that it speaks to the individual in language that is relatable, can be accessed easily and doesn't make the individual feel like breastfeeding is for some elitist group of crunchy women come to save the world one breast at a time. It needs to address body image, cultural beliefs, sexual trauma, and the whole host of situations that can be a barrier to breastfeeding (infant feeding) because we already have enough things separating us into the breast vs. bottle debate. We are here to stand for a collective unified front realizing showing that there is no one answer or solution when it comes to feeding our families.
What's your favorite breastfeeding resource (ie, article, blog post, video, website)?
I love the video "Teach Me How to Breastfeed." I show it to all of our moms and in our doula trainings.