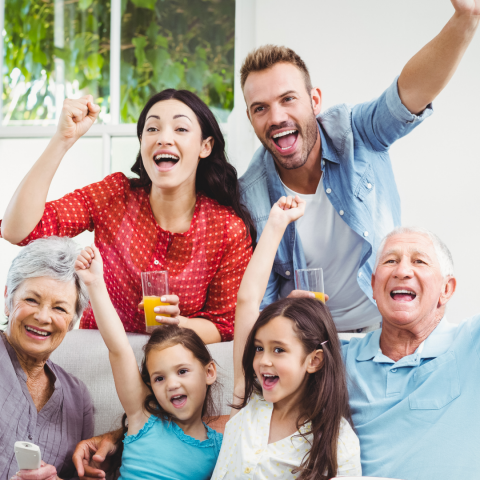 Don't let the clock run out for families - Senate must act now!
BIG NEWS! The U.S. House of Representatives just passed sweeping legislation that would boost families and our economy in ways not seen since the New Deal -- including ensuring that the expanded Child Tax Credit that families have been receiving since this summer continues on and more (See the list below)! Now, it's up to the Senate to do their job quickly because if they don't act by the end of the year, families who need it the most will lose their monthly CTC payment on December 31st. 
Join us now as we near the end of the year in a season of reflection, gratitude, and resolve to say THANK YOU to your Representatives in the House for standing up for families by passing Build Back Better!  When you click to take action, you'll also remind the Senate that we are counting on them to act this month to pass Build Back Better through the Senate in order to advance the below listed policies and ensure families continue receiving the Child Tax Credit!
What just happened? The U.S. House of Representatives just passed the Build Back Better legislation that: 
Cuts child care costs in half for most families,
Provides four weeks of paid family/medical leave,
Makes preschool free for three- and four-year-olds,
Expands access to home-based services for older Americans and people with disabilities,
Reduces the number of children living in poverty by extending the expanded Child Tax Credit,
Improves access to health care,
Cuts the cost of prescription medications,
Helps end our country's Black maternal health crisis,
Raises wages for care workers, and
Provides lasting protections for those in our immigrant communities.
This is huge!  
Now, the next step is making sure Build Back Better is passed by the Senate before the end of the year! This would put in place family-supportive policies AND quite literally keeps money in the pocket of families who need it most. 
Let's keep up the MOMentum!  Tell House Representatives THANK YOU (!!) for passing Build Back Better and urge your Senators to pass it too before the monthly Child Tax Credit ends on December 31st!  
Expanded child tax credits can reduce child poverty by fifty percent. [1]  But these incredible boosts for families passed under the American Rescue Plan end this month unless the Senate acts soon.  So please take a moment now to thank your Representatives in the House for using their leadership to support families, and tell your Senators to step up for families and pass Build Back Better before the end of the year! 
It's not every day that Congress takes bold action that supports families like yours and mine -- let's send them a note of gratitude to thank them for their important action and keep up the momentum for this life-changing legislation. The truth is, Build Back Better is full of amazing things for families that allow them to thrive: the improved Child Tax Credit, Paid Family and Medical Leave, affordable child care, universal pre-k, home- and community-based care, and MORE! That is the kind of change we need, and we need it before the clock runs out.
The U.S. House of Representatives demonstrated the leadership that families across the country need and deserve, they showed up and showed us that we can do the right thing. Now is time for the Senate to do the same!
As we reflect on this past year about the things we are grateful for and resolve to change for new year to come, please share this action link on social media and with friends and family so we all can not only thank the U.S. House but also move our whole nation forward by urging the U.S. Senate to do the same!