Don't Leave the Unemployed Out In the Cold!
I hear from moms all the time about the challenges they are facing and the bright lights they find through programs that help keep their family's head above water during tough times. That's why when I read Grand Rapids, Michigan mom Lisa's story I could hear the panic and worry leaping right off the page. It's the holiday season, and while she should be thinking about holiday cheer, all she can think about is how she will keep her family afloat for one more week:
"My husband lost his job in the economic downturn. We are living on my income and his unemployment right now and every week we fear unemployment being cut off. My husband is going to college full-time right now and is pursuing his degree, but in the meantime we have to eat and pay our mortgage. It's been an incredibly hard two years on our family. I urge Congress to continue to pass legislation that would help the hardest hit people in the country right now."
As we all know, Lisa is not alone. The Bureau of Labor Statistics reported in November that there are still 10.9 million people who are unemployed, including 4.1 million who are long-term unemployed (jobless for 27 weeks or more). The jobless rate for women is 6.2%. Which is why it is utterly confusing that some members of Congress would even be considering not extending unemployment benefits when they expire at the end of the year.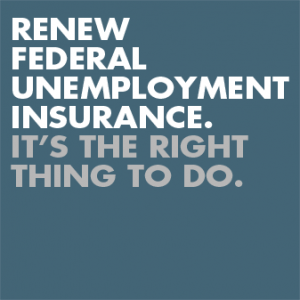 The Emergency Unemployment Compensation (EUC) program is set to expire at the end of the year. And if Congress doesn't act, just as the holidays are finishing up and the long, cold winter begins, 1.3 million workers will abruptly lose their benefits. There will be no tapering off of the program—these vital funds will just end.
Families with unemployed workers depend on EUC to help pay the mortgage, put food on the table, pay the utilities and gas bill, and provide medication for their children. Without it the effects of joblessness would be even harsher than they already are.
Unemployment Insurance is one of the top public programs that helps lift millions of women and children out of poverty each year. In 2012 alone, unemployment insurance kept more than 1.7 million people, including 655,000 women and 446,000 children, from falling into poverty.
Moms and dads are not the only people being helped by this safety net program—local economies also benefit. The Congressional Budget Office consistently ranks unemployment insurance as one of the top most effective policies for generating economic growth in a downturned economy. And Mark Zandi, chief economist of Moody's Analytics, famously stated that for each dollar of unemployment insurance, $1.55 in new economic activity is generated.
And while it is clear that Unemployment Insurance helps our economy, there is equal amounts of research showing that failure to extend this important program would actually hurt our economy. Failing to extend Unemployment Insurance would actually create more unemployment, costing 240,000 jobs in 2014. If EUC is not extended job-seekers will cut back on their spending, leading to what JP Morgan has estimated to be a .2 to .4 percentage points drop in the Gross Domestic Product (GDP).
For those that claim that it is long time that we put an end to the unemployment insurance program (http://waysandmeans.house.gov/news/documentsingle.aspx?DocumentID=357087), I ask what are we supposed to do about moms like Lisa? She's living day-to-day and the recession is only recovering by centimeters not feet. We need to continue to provide a lifeline to these families and Congress must pass a robust reauthorization of the EUC now!
The clock is ticking and Congress is gearing up to leave town for the holidays. Please tell your members of Congress: "Don't leave the unemployed out in the cold! Pass an extension for unemployment benefits now!" Go here and write your members of Congress: http://action.momsrising.org/sign/ExtendUI/