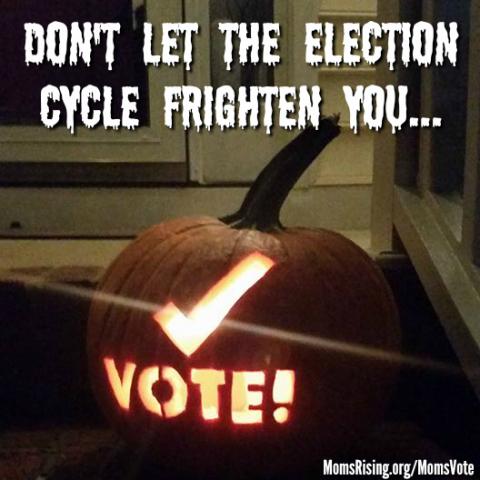 Don't just Get Out The Vote - GOURD Out The Vote with Electoral Pumpkins!
Does this election season have you stressed out? I've got a solution for you! Let's Gourd Out The Vote and carve some electoral pumpkins!
What the what? What is "Gourd Out the Vote" and what is an electoral pumpkin? A weird band? A polling firm? Nope! Gourd out the vote is a seasonal play on "get out the vote" and electoral pumpkins are my go-to election season stress reliever.
Let me explain. A few years ago during a particularly stressful campaign, I found myself doodling and sketching out campaign signs while looking across a table at a pumpkin and thought – I'm gonna put this campaign sign on a pumpkin and…voila! Since then, I've really come to think outside the box when it comes to pumpkin carving patterns. Why not use your gourd to GOTV (get out the vote) or promote your favorite issues and organizations? One of the first rules of organizing is to go where the people are – and if people are coming to your door to collect treats why not put your message right in front of them? And relieve some of the electoral stress that our country is experiencing right now.
So with all of that in mind, I'm super excited to share hot-off-the-presses pumpkin patterns featuring some of my favorite MomsRising and voting images! Click the links below to download templates for your own pumpkin carving pleasure!
Once you're done carving your pumpkins, be sure to take pics and share them with us on Facebook, Twitter, Instagram and more! Use these hashtags so we'll be sure to see your creations. Tag @MomsRising and use hashtags like: #MomsVote #Halloween #MomsVote#Voting #Vota #LatinasVotan #WeWontWait2016 #RisersWontWait #Risers #GOTV
And be sure to visit the MomsRising MomsVote page to find tons of information to get you through election season, including kits for getting your kids involved in voting, discussion guides for talking to your friends and family about the importance of voting, sample questions to ask candidates, our BINGO debate card and more!
I hope you enjoy these! Make sure to share your pictures on our Facebook page and/or tweet a picture to @MomsRising via Twitter!
Happy carving!
-Ruth