Disney Cartoons and Black Female Doctors -- What's the Connection?
It's Black History Month, and when it comes to that history in cartoons, the news hasn't always been good. For decades cartoons, mostly by the Disney corporation, featured lots of white characters and lots of black stereotypes. But as the song says, the times they are a-changin'. In recent years Disney has worked overtime to leave the past behind. One way has been the creation of Doc McStuffins, the African-American title character of a TV cartoon aimed at preschoolers. Doc McStuffins is not only African-American, she's a girl. And she's become a symbol of pride and hope for Black women in medicine and the daughters they want to inspire. Doc dreams of becoming an M.D. and, for now, runs a cheerful home clinic for stuffed animals and dolls.
One engine behind the cartoon's success is Dr. Myiesha Taylor, an African-American emergency room doctor in Texas. Impressed by Doc McStuffins, Taylor wanted to share her profession with her 4 year old daughter Hana. So she created an online collage of 131 African-American women physicians who are real-life Doc McStuffins, and she sent it to Disney. "We are trailblazers," Taylor proclaimed on her website. "We are women of color. We are physicians. We ARE role-models. We are Doc McStuffins all grown up!"
But we know trailblazers rarely stop with one trail – and that was certainly true of Taylor. She knew she had to go beyond positive images for kids and find a way mentor and support real women physicians of color globally. To do that she founded Artemis Medical Society in June of 2012. In less than a year the group has attracted nearly 2500 members, with representation in every major American city. And it now extends to South Africa, the United Kingdom, Italy, and the Caribbean. I interviewed Dr. Taylor recently for my radio show Equal Time With Martha Burk.
MB: Tell us about your decision to become a doctor. You had some good role models. Your grandmother and mother were both nurses.
MT: My grandmother was raised on a farm in a family of 14 children. She aspired for more and became a Licensed Vocational Nurse. She encouraged my mother to become an RN, and in her mind the next step was for her daughter to become a physician, so that was my goal very early on.
MB: Why did you choose to be an emergency room physician?
MT: Because emergency offered more worklife balance for women. Once you become an ER physician you work shifts. When you're at home you're at home -- no pagers. It's quality time with your family.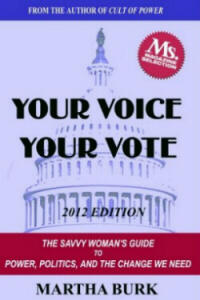 MB: The Disney cartoon Doc McStuffins really struck a chord with you. You said "What we saw in Doc McStuffins resonated with the souls of women physicians of color. We saw our image and our story in a positive light being shared with children all over the world."
MT: Yes. We watched it with our 4 year old and it was amazing to see this little brown girl aspiring to be a physician. It was like Disney peeked into my daughter's playroom. It also educates her about what I do.
MB: How did you find the 131 female physicians of color in your collage?
MT: As a mom I love to make collages of my kids at various stages, and I wanted to find a way to let Disney know I appreciate the show. I connected with physician friends online -- it kind of started a movement.
MB: Did Disney come back to you right away?
MT: They did. They said the reaction was exactly what they were hoping for, that people could relate to this little girl.
MB: How did all this lead to the creation of the Artemis Medical Society?
MT: The women were very enthusiastic and excited about their careers. There was not a national medical society of women physicians of color. So we created it.
MB: How do we get kids to the next level in terms of their aspirations?
MT: A lot mentoring. At Artemis start when the children are very young. Shows like Doc Mc Stuffins also demonstrate to young people that it's doable. [The message is] that just because you're female, or you're Black or Latina, that doesn't mean you can't do it.
Listen to Dr. Myiesha Taylor's full interview here.