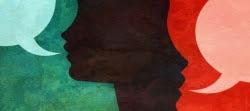 Dialogue Across Differences: An Evening with Living Room Conversations
Today more than ever, political divisions are straining cherished relationships between family and friends. As you prepare to gather with family and friends in November and December, there is no better time to learn how to navigate challenging conversations with respect and curiosity.
Come join the JCC East Bay and me on Tuesday, November 14, for an introduction on how to create dialogue across difference. Through thoughtful conversation and the power of listening, we can begin to mend fractured relationships we have with our friends, family, neighbors, and community. These relationships across difference are key to the health and prosperity of a society that believes in respect and equality for all. Is there a way for us to tap into the kindness and goodwill that we've seen in our friends across the political spectrum?
John Gable and I have formed a very real friendship that is fostering meaningful exchanges between people from different parties, groups and backgrounds. Although it sounds like the plot of a rom-com — Republican guy meets liberal woman; sparks fly! — it's a working friendship that has moved dialogue forward (and even landed us at TED). John worked in Republican politics before entering the tech world. A Berkeley, California, native and progressive, I co-founded Moveon.org in 1998 and co-foundeed LivingRoomConversations.org, as well as MomsRising.org.
Founded in 2010, Living Room Conversations strives to cultivate respectful engagement among people who may hold profoundly different points of view, and works to build relationships that generate understanding and enable collaborative problem-solving.
This program is made possible in part by a grant from the Lisa and Douglas Goldman Fund.