Denied! Stand up for stay at home moms, dads, caregivers
Denied.
That's the response Holly McCall of Virginia received when she recently applied for a credit card.
The reason?  Holly is a stay-at-home mother.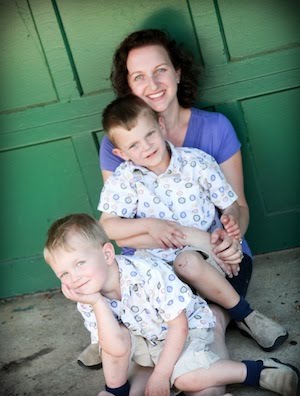 Effective October 1st – just as parents are stocking up on holiday gifts – credit card companies are required to consider an applicant's individual income, rather than household income, to qualify for credit.  The Federal Reserve believes the new rule is required under the CARD Act (Credit Accountability, Responsibility & Disclosure Act), a law that was supposed to protect consumers from misleading credit card practices and prevent young adults from getting excessive lines of credit without supporting income.[1] However, the bill authors had no intention for the CARD Act to make stay-at-home parents second-class citizens in the financial world and are appealing for the new Consumer Financial Protection Bureau to use its authority to change these rules.[2]
This retro financial rule has got to go.  Tell the Consumer Financial Protection Bureau that these rules are unfair to stay-at-home parents and must be changed immediately:
http://action.momsrising.org/letter/CARDAct/
Together, we can fix this retro rule. After you take action via the above link, Holly and MomsRising members will deliver your letters directly to the Consumer Financial Protection Bureau during the year's busiest shopping season as a way to pressure them to reconsider these rules right away.
Think this is just a small inconvenience?  Think again.  The new rule means stay-at-home parents can only get access to new credit cards by becoming an "authorized user" of their spouse's card.
As a result:
* Stay-at-home parents may not be able to build an independent credit history they can rely upon in the case of spousal death, separation, or divorce.
* Partners in abusive relationships may have difficulty leaving a spouse due to the financial constraints of not having their own credit established.
Rejecting household income as a basis for credit card qualification sends an insulting message that stay-at-home parents have no economic value and are as credit-worthy as an unemployed college student!  Holly says, "I make most day-to-day financial decisions for our household and our income is my income. I feel like I've stepped back in time to where women are not considered equal partners in financial decisions."
Having a credit card is an essential financial tool for making online purchases, making travel reservations and payments, and qualifying for a business loan or home mortgage. Women (including stay-at-home mothers) make most of the purchasing decisions for their families. In fact, U.S. women spend more than $3.7 trillion annually on consumer goods and services, plus another $1.5 trillion as purchasing agents for businesses. As a group, U.S. women constitute the number three market in the world, with their collective buying power exceeding the economy of Japan.[3]
Stay-at-home parents deserve respect and access to credit.  Send a letter to the Consumer Financial Protection Bureau now.
http://action.momsrising.org/letter/CARDAct/
It's time for the Consumer Financial Protection Bureau to fix this broken rule.  The CARD Act was well-intentioned legislation that was supposed to protect consumers, not unfairly limit their access to the credit they need to shop for themselves and their families.  It's time to change the rules to protect stay-at-home parents' today and for the future.
Together we can fix this problem--and the more voices who come forward, the bigger the impact we'll have together.  Please take a moment to forward this email to friends and family--and to post the action link on your Facebook page.
Thanks for standing up for all parents!
-- Ashley, Holly and the whole MomsRising.org team
[1] Press Release, U.S. Federal Reserve, March 18, 2011.
[2] Press Release, Congresswoman Louise Slaughter; Press Release, Congresswoman Carolyn Maloney
[3] BSM Media, Marketing to Moms Report