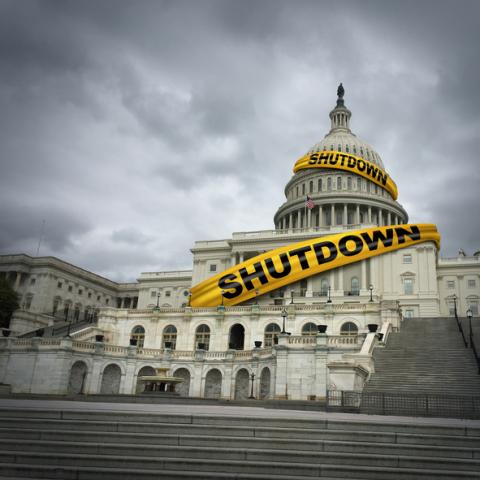 Demand back pay for ALL government workers impacted by the shutdown
Even though the government shutdown over President Trump's wasteful wall has ended (for now!), there are thousands of low-wage government contractors who are still feeling the financial pain. Contractors like Toni, a mom from New York, who says:
"I am a Federal government contractor. I was out of work for 3 weeks and will not receive any back pay when/if I get to return to my job at a government agency. I have had to apply for unemployment benefits, which I will not receive for another couple of weeks. Meanwhile, I have no income. Federal employees and contractors want nothing more than to get back to the business of serving their country and providing for themselves and their families."
While our nation's leaders have promised to provide back pay to all federal workers impacted by the shutdown, the same is not true for the thousands of government contractors who are not legally protected by being federal employees. This includes many low-wage contract workers.
***SIGN our letter to the U.S. Congress now calling on them to provide back pay to government contractors impacted by the #TrumpShutdown!
Senator Tina Smith (MN) and Representative Ayanna Pressley (MA) have introduced The Fair Compensation for Low-Wage Contractor Employees Act of 2019—legislation that will require the federal government to reimburse contractors for the costs associated with providing back pay and reinstating leave benefits for their employees that have been furloughed as a result of the shutdown. [1] It also includes language that directly helps the thousands of low-wage contract workers, janitors, food service workers, security guards, construction workers, and people in administrative positions, who otherwise would be without 35 days worth of pay.
While this sensible bill has received widespread support from Democrats, only one Republican (Senator Susan Collins from Maine) has signed on in support so far. [2] The President, Senate Leader Mitch McConnell, and their supporters in Congress vowed to make "government workers whole again" when they ended the shutdown. The only way to do that is to guarantee that ALL workers impacted by the shutdown receive back pay.
It's time to use our outside voices and speak up for ALL government workers!
***ADD YOUR NAME to our letter to Congress calling on them to provide back pay to ALL government workers impacted by the #TrumpShutdown—including the thousands of low-wage contractors!
Over the past few decades, the federal government has contracted out more and more of the jobs and functions federal employees once performed. For every federal worker hired, there are almost two more contract workers hired, for a total of about 3.7 million according to 2015 estimates from the Volcker Alliance. [3] These jobs include the women and men who clean federal buildings, staff cafeterias and concession stands, process payments, and provide vital tech support to federal agencies. Up until the Trump Administration, these were considered good, steady jobs. These workers were either furloughed or showed up during the shutdown and worked without pay. They had to go over a month without a paycheck while still having to juggle childcare, rent, groceries, and medical costs.
It is only right that these hard-working men and women receive the same compensation and benefit guarantees that other government workers receive.
Your voice was so powerful during the shutdown. You spoke out by the hundreds of thousands, you sent letters, made phone calls, and told your stories. Our elected leaders heard you and because of YOU we were able to back up Speaker Pelosi and Senator Schumer and the government reopened and President Trump didn't get a penny for his foolish wall.
We need you to speak out again to make sure ALL government workers receive back pay. SIGN OUR LETTER TO CONGRESS NOW!
We will be delivering your signatures to Congress soon, so after you have signed the letter please forward this email to your friends and family and post our action link to Facebook and encourage your friends to take action as well.
Together we are a powerful voice for America's workers!
Elyssa, Monifa, Donna, Gloria, Kristin and the entire MomsRising.org/MamásConPoder team
P.S. Are you a government contractor who never received back pay after the #TrumpShutdown? How about someone who would be impacted by a second shutdown? We would like to hear from you. Share your thoughts here.
[1] The Fair Compensation for Low-Wage Contractor Employees Act of 2019.
[2] Stephanie Griffith. "90 Democrats, one lone Republican sign onto a bill giving back pay to federal contracts workers." Think Progress, February 3rd, 2019.
[3] Paul C. Light. "The True Size of Government." The Volcker Alliance, October 5, 2017.