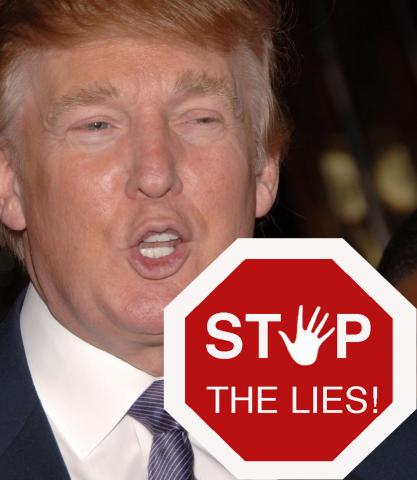 Demand an Apology from Donald Trump!
On June 16th, Donald Trump said the following hurtful, harmful, and completely inaccurate statement: "When Mexico sends its people, they're not sending their best…they're sending people that have lots of problems…they're bringing drugs, they're bringing crime. They're rapists…" [1] Trump couldn't be more wrong: Studies show that immigrants are actually LESS likely to commit crimes and also that immigration and crime rates aren't linked at all. [2] His hateful statement was both inaccurate AND harmful. 
When my 12 year-old son heard Trump's hateful comments about Mexican immigrants on TV, he asked me: 
"Why would Trump say that about our family, Mamá?"  
As a Mexican-American mom, my heart dropped to the floor. I felt profound anxiety about not being able to protect my child, and all children of color, from this kind of horrible racism. I also felt outrage.  And now I want an apology.
Join me in demanding an apology from Donald Trump. Racist attacks against immigrants – based on lies! – harm our children and are unacceptable.
http://action.momsrising.org/sign/Trump_apology/?t=5&akid=6957.1974481.Kb2sPn
Anti-immigrant pundits repeatedly claim that immigrants, especially undocumented immigrants, are dangerous criminals. Let's set the record straight: Numerous studies have shown that "immigrants are less likely to commit crimes than the native-born, and high rates of immigration are not associated with higher rates of crime. This holds true for both legal immigrants and the undocumented, regardless of their country of origin or level of education." [3]
Furthermore, two thirds of all immigrants to our country are women and children, and racism is far from a "grown-up" problem. Research indicates that children who are exposed to racism at an early age suffer socially, academically, and their health is negatively impacted. [4, 5]
Here's a sampling of statements from 12 year-old students who share their experiences and fears about "what it's like to grow up in such racially harassed times": [6] 
"My parents are from Venezuela and I was sharing one of the foods that we eat and I got made fun of... and then I cried cuz I felt like, ohhh! There's something wrong where I'm from, maybe it's bad, like I'm different."  
"When I was younger I went with my family [of Haitian and Nigerian heritage] to a restaurant and they made us pay in advance, just in case we didn't pay afterwards. That was kind of upsetting." 
"I think there's this kind of anxiety that comes with being biracial. I have an African American father and an Irish American mom.  That kind of eats away at you. Like, almost that you have to prove yourself, that you're one or the other."
Children should not have to experience racism anywhere in their lives, including from public figures in the media.
There is so much non-sense in Trump's statement that many companies have terminated their business relationships with him, including NBC, Macy's, NASCAR, PGA, and more. NBC issued in a statement: "Due to the recent derogatory statements by Donald Trump regarding immigrants, NBCUniversal is ending its business relationship with Mr. Trump. At NBC, respect and dignity for all people are cornerstones of our values." [7]
We applaud these companies.  
And now, in protection of our children, let's add our voices as parents, grandparents and other caregivers by demanding an apology.  
Join me in demanding an apology from Donald Trump. Racist attacks against immigrants – based on lies! – harm our children and are unacceptable.
http://action.momsrising.org/sign/Trump_apology/?t=9&akid=6957.1974481.Kb2sPn
Thank you for standing with me to end the hate and to stop racism from harming our country's children.
-- Xochitl
*Disclaimer: This is a nonpartisan message, taking no position in support of or opposition to the campaign of any candidate or party for public office.
[1] "Transcript, Donald Trump announces his presidential candidacy," CBS News, June 16, 2015.
[2] Evidence setting record straight immigrants and crime, American Immigration Council, July 23, 2013.
[3] Ibid.
[4] Awareness of racism affects how children do socially and academically, EurekAlert, Nov 2009.
[5] "Racism Hurts Your Health - and Your Children's, Too," The New Republic, January 27, 2015.
[6] "'I get scared that cops might beat me up': Eye-opening video sees 12-year-olds from all backgrounds sharing frank and shocking views about how racism affects their lives," DailyMail.co.uk, July 14, 2015.
[7] "NBC Cutting Ties to Donald Trump Over 'Derogatory' Remarks About Immigrants,'" Variety, June 29, 2015.