Take Action!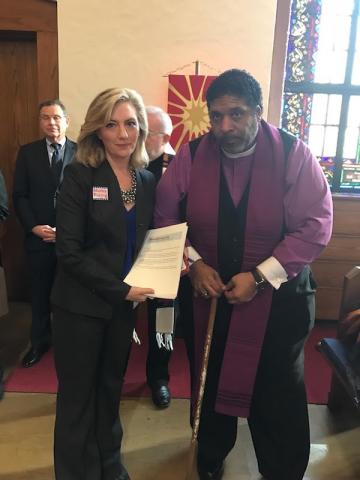 Defend families from the cabinet of bigotry
Last week, I had the great honor of standing with faith leaders – including Rev. William Barber, Khizr Khan, and Rabbi Jason Kimelman-Block – to speak out against Donald Trump's proposed administration-in-waiting.
The cabinet of bigotry.
These radical cabinet appointments threaten our economy, hurt our children, and tear the fabric of our democracy. This is not the future we seek to build for our children.
When our future great grandchildren look back at this moment and ask us: What did you do to protect our nation?
We need to be able to answer: Everything we possibly could.
MomsRising will use the full force of our movement to resist bigotry and protect our children and families, our economy, and our country. But in order to face the magnitude of this crisis, we need more help. We need you with us. Will you chip in to show your support for MomsRising right now?
In word and in deed, many of Trump's nominees for cabinet positions have shown themselves to be intolerant, racist, xenophobic and sexist.
His nominee of a corporate fast food CEO for Labor Secretary is a clear indication of the aggressive anti-working woman and family agenda that President-elect Trump seems eager to champion in his new administration.
His nominee for Secretary of Health and Human Services plans to dismantle the Affordable Care Act, kicking nearly 20 million Americans off health care coverage and forcing people with pre-existing conditions into an expensive and unnecessary fight for their lives.
His nominee for Education Secretary has dedicated her life to undermining public schools and the right of all children to get a good education.
Nope. Not on our watch. It's time for us to keep the pressure on — and to step forward to say that this is NOT the future we seek to build for our children: https://action.momsrising.org/donate/defend/
His nominee for U.S. Attorney General has a history of spewing racist rhetoric, and was previously rejected by the Senate Judiciary Committee for embracing policies that would undermine basic civil rights.
And possibly most shocking, the man who has been selected as chief White House strategist IS a notorious white supremacist with a history of promoting sexism, anti-semitism, homophobia, racism and transphobia.
It is truly difficult to imagine a more dangerous set of nominees. We must resist, with every tool, every tactic, every ounce of energy that we have.
Declare where YOU stand. Make a gift of support to MomsRising today to resist bigotry and defend women and families from hate and discrimination.
Don't sit this one out. Women and families need you.
Thank you for all you do.