Play BINGO!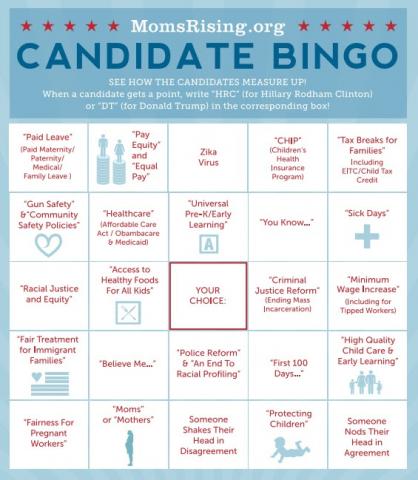 Debate BINGO! Get your card here
This is going to be EPIC! 
Monday, September 26th at 9pm ET / 6pm PT is the first Presidential debate of the 2016 election! To keep debate watching fun, we've created a debate BINGO card to help you track whether the candidates are covering issues of greatest concern to women, moms, and families.  
** Gather your troops (your troops can be just your cat, or your child, or your neighbor without a TV) and have a virtual party with us & your TV on Mondaynight.
 
--- Click here to tell us "I'm in!" for the virtual BINGO party and get our nifty Presidential BINGO card: http://action.momsrising.org/signup/DebateBINGO2016_VP
The BINGO card is a great, fun way to track if the presidential candidates talk about the issues that are important to women, moms, dads, kids, and families. Issues like fair pay, access to healthcare, sick days, child care and other family economic security policies. 
Here's how it works: Every time a candidate talks about one of those issues, you can mark it down on the BINGO card--and maybe even raise a juice box or sippy cup in a cheer!
Click here to get your new 2016 MomsRising Debate BINGO card now!
The fun doesn't stop after the debates! After the debates are over, we'll also share the Presidential debate BINGO card tallies for each candidate with the media, as well as with the campaigns. This way the candidates will know that real people are paying attention to--and tallying!--where they stand on family economic security issues. And thus, playing something as fun as BINGO will help remind the candidates to put family economic security issues as a top priority.  
We'll also be tracking the BINGO tallies on social media using the hashtag #MomsVote. We hope you'll join us in tracking and discussing the debate on this thread.  
So, get your presidential BINGO party on! You can even use it as a fun "teachable" moment with your kids about the importance of citizen participation in elections.  
For our part, we can't wait to sit down and tally up their remarks, or lack thereof, on our presidential BINGO cards -- and to keep letting candidates know that moms are paying attention, and that our votes matter.
*Here's that link again to say "I'm in" for watching the debate and for getting your super fun Presidential Debate BINGO card:  http://action.momsrising.org/signup/DebateBINGO2016_VP
Enjoy the debate--and the BINGO!
P.S.  Have you and your friends registered to vote yet?  You can register to vote in English - https://register2.rockthevote.com/registrants/map/?partner=16027 and Spanish - https://register2.rockthevote.com/registrants/map/?partner=16027&locale=es
**If you're not sure if you need to register to vote or not, check your voter registration status here:http://www.canivote.org/