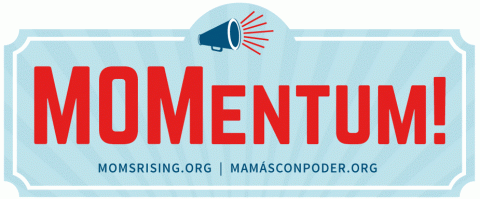 Cyntoia, Census, IL Gun Laws: Your January MOMentum!
WOW! With the progress we've achieved so far in 2019, it's safe to say that MomsRising supporters are already building MOMentum for a great year ahead! Thanks to your actions and donations, we're advancing rights for all women, moms, and families. Read on for details on what we've accomplished together and what's coming up next!
(As always, we love to hear your feedback. What do you love about being a MomsRising supporter? What do you think we should tackle next? Send your thoughts to me, anita@momsrising.org.)
---
CYNTOIA FREED
On Jan. 7, Tennessee Gov. Bill Haslam granted clemency to Cyntoia Brown, a victim of sex trafficking who was unjustly convicted and who has already served 15 years in prison. MomsRising followed the outstanding leadership of Black Lives Matter Nashville, which organized tirelessly to bring this injustice to Gov. Haslam's attention and convince him to do the right thing by bringing Cyntoia Brown home. More than 16,000 MomsRising members signed petitions to Governor Haslam to press for clemency.
We thank supporters like you, and all of the allies, including Color of Change, Movement for Black Lives, and #MeToo, for fighting for Cyntoia with us.
---
CENSUS PROTECTED
This summer, powered up by the generosity of members like you, MomsRising supporters took action online against the Trump Administration's plan to add a discriminatory question to the 2020 U.S. Census related to citizenship. A citizenship question on the next Census would discourage participation and threaten the accuracy of the count. On Jan. 15, a federal judge blocked the Administration's plan! VICTORY! This is great news because the results of the U.S. Census determine funding for schools, housing, health care, and more.
---
NEW ILLINOIS GUN LAW
BIG WIN ON GUN SAFETY! In Illinois, nearly 20% of all guns recovered from crime scenes in Chicago are being sold by just four local gun dealers playing fast and loose with the rules! After a years-long effort, MomsRising and our gun safety allies finally succeeded in getting legislation to rein in unscrupulous gun dealers through both chambers of the Illinois State House, only to see it vetoed by Governor Rauner. One of the first things new Illinois Governor J.B. Pritzker did on taking office in 2019 was to sign the Gun Dealer Certification Bill into law, which gives law enforcement important tools to hold gun dealers accountable. It also requires more rigorous business practices (such as undergoing training in background checks, theft prevention, and preventing "straw" purchases) from gun shops as part of the state certification process. We're celebrating this win for families and our communities!
---
| | |
| --- | --- |
| | MEDIA SPOTLIGHT |
Pelosi and my Oma: Older women rule
Jan. 24, 2019, CNN
"We have a lot to learn from the women who came before us about aging, power and thumbing our noses at our nation's shortsighted thinking about older women….As we age, we rise up in leadership and we get smarter."
— Kristin Rowe-Finkbeiner, MomsRising executive Director
---
| | |
| --- | --- |
| | MEMBER LOVE |
Members share how MomsRising is a positive force in their lives
"What motivated me to support you…fighting for gun safety legislation, quality childcare that doesn't break the bank and voters rights. Women and Families are powerful, when they have what they need and when they stand together. To change the tide it will take All of us rowing in the same direction. We have a start, but we have to continue and you and your organization are helping to do that work."
— Brenda
Tell us, what does MomsRising mean to you? Send your comments to anita@momsrising.org.
---
| | |
| --- | --- |
| | COMING SOON |
Various Dates | Colorado, Paid Family and Medical Leave Listening Tour across Colorado
MomsRising invites you to join a conversation with community and business leaders about paid family and medical leave. Enjoy drinks and snacks on us, big thinking, and strategizing for ways to lift our families, businesses, and economy. For more info contact erin@momsrising.org.
Feb. 10, Fort Collins, 3-5pm
Feb. 13, Boulder, 6-8pm
Feb. 17, Pueblo, 2-4pm
Feb. 23, Avon, 2:30-4:30
Feb. 24, Grand Junction, 2-4pm
Various Dates | New Hampshire, Zero Weeks screening and PFL discussion
MomsRising will be holding a screening of Zero Weeks and a facilitated discussion on paid family and medical leave. For more info contact christina@momsrising.org.
Feb. 11, Derry, 6:30pm
Feb. 13, Claremont, 6:30pm
Feb. 16, Manchester, 1pm
February 14 | CA: Real Money Moves Rally, Time TBD
Corporate accountability rally in San Francisco. Further details TBD.