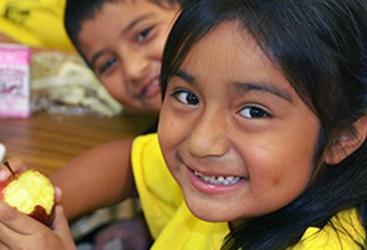 Creating Healthier Schools, Active Minds
It wasn't until I became a mom that I decided to go into teaching. For 7 years, I worked in manufacturing, but there was something about becoming a parent that compelled me to want to make a difference in children's lives, even beyond my own family.
And so I became a teaching assistant until I earned my degree, and then spent 12 years in the classroom. During those years, I learned a lot about what creates a stimulating learning environment. I'm sure that I did a lot of things wrong at first, but I gained insights that have been invaluable in helping me become an effective administrator today.
One of the most important lessons I learned, both as a mom and as teacher, is that children's health is connected to so many other areas of their lives, such as their ability to concentrate, manage their emotions and maintain focus for extended periods of time. When kids are hungry or when they've been sitting for too long, it becomes nearly impossible to get their full attention ‒ and both students and teachers suffer.
When I arrived at Rangerville Elementary School four years ago, I was so grateful that we were already on the way to achieving many health goals thanks to participation in the Alliance for a Healthier Generation's Healthy Schools Program, and later with Fuel Up to Play 60 and Healthy South Texas, through the Texas A&M Agri-Life Extension. But we still had work to do, namely increasing physical education minutes, making time for recess, incorporating frequent brain breaks and finding healthier ways to celebrate.
Today, I'm proud to say that our school day looks a whole lot different than when I first arrived, and the Alliance recognized that by naming us one of America's Healthiest Schools!
Below are some of the important changes we've made:
All students receive 20 minutes of recess each day.
We welcome our staff back to school with fruit and yogurt parfaits.
Each week, students receive 180 minutes of physical education through four 45-minute periods.
We started a running club for fourth and fifth grade students, which has led to a decrease in negative behaviors as well as physical changes in some students.
Staff and students can sweat to Zumba together after school.
Our annual community fair brings in community partners to teach parents healthy cooking lessons.
Birthday celebrations now include goodie bags with pencils, stickers and fruit in place of cupcakes.
The effect that these initiatives have had on our school – and on the entire San Benito community – have been tremendous. See, our school is about five minutes away from the Mexican border; 99 percent of our students are Hispanic and 100 percent qualify for free meals. Research tells us that students who live in low-income communities and/or are racial or ethnic minorities are at increased risk for poor health outcomes, but at Rangerville, we're proving that any school can become a healthy place with the right support and a commitment to improve. All you need is the desire for change.
I'm grateful for the opportunity to shape the healthy futures of my 370 students and staff members by making small changes that have a big impact. Join me, and join the movement, to make healthy schools the norm for all kids!