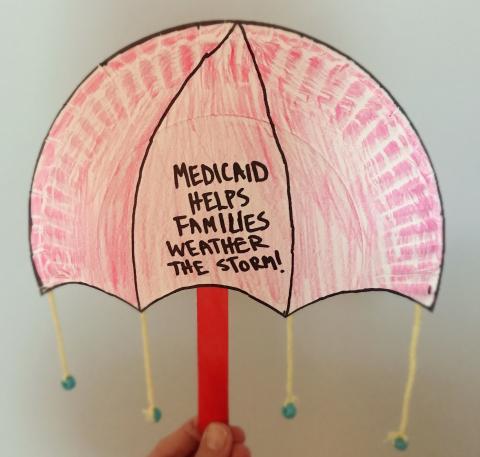 Crafting for Medicaid Awareness Month!
Medicaid helps families weather the storm during times of need—whether it be during a health care crisis or a time of financial hardship. It provides health care coverage to millions of Americans (including children, pregnant women, elderly adults, people with disabilities, and low-income adults) and is funded jointly by states and the federal government.
April is Medicaid Awareness Month, which is a great time to teach kids (and our elected officials!) about how important this critical and often life-saving health insurance program is for families.
Crafts are a fun way for kids to be able to participate in advocacy in a meaningful way. Here are directions for a fun springtime craft you can do with your children to deliver to your state lawmakers' and members of Congress' offices. (Pro-tip: When you bring your child-made crafts to deliver, it's a great idea to also bring resources like personal stories and fact sheets. Here is a link to our Medicaid storybook and can also print your state's Medicaid report from Georgetown CCF here.)
Supplies needed:
Paper plate
Scissors
Crayons and/or markers
Craft stick (popsicle stick)
Yarn & beads (optional)
Step 1: Take a plain white paper plate and cut it into the shape of an umbrella.
Step 2: Decorate plate and include a message about Medicaid.
Step 3: Turn over and attach craft stick.
Step 4: Add yarn & beads to decorate (optional) 
Step 5: Be sure to drop your crafts off to your state and federal elected officials to let them know you support Medicaid! (And if you can't stop by in-person, you can always mail in your crafts with messages via snail mail—be sure to include enough postage!)
*Bonus: When you stop by your lawmakers' offices, be sure to snap a picture! You can share it with us by tagging @MomsRising on Twitter or Facebook, by using #Risers, or by emailing it to me at felicia@momsrising.org! (Other hashtags to use: #MedicaidMatters #ProtectOurCare)