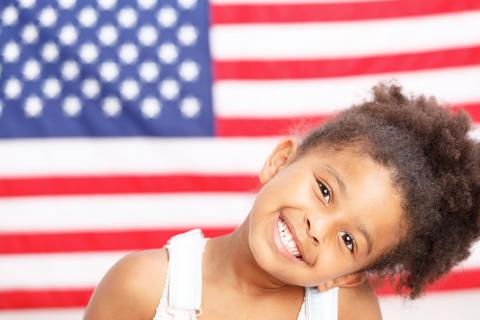 Courageous Conversations: The 2016 Election
As we prepare to elect a new leader of our country, the vitriolic stump speeches and debates can tend to consume all of our time and attention. Children are also watching and listening, trying to make sense and meaning of the words, images, and feelings swirling around them and us. Children as young as three may be aware of the upcoming elections, and adults can take advantage of this opportunity to engage them in conversations that pave the way to understanding the political process and the impact of elections, such as ideas around about rule making, fairness  and justice for themselves and others.
This is not only another historic election (a new 'first' may be in the making), but also a time of heated civil unrest in our cities, and deep dissatisfaction, fear and uncertainty across our nation. What can a parent or any caring adult do to help a child understand what is happening right now in our country? How much, if any, of the 'good, bad and ugly' of this campaign is appropriate to expose or share with children? How does this election tie in to our broader messages to our children about social justice, bias and their role in creating a more just and equitable society?
For families this is compounded by children's access to all forms of media and "talk" in the home, at school, in carpools, and on the playground. Kristin Vanderhey Shaw's September 26th On Parenting article in the Washington Post reminds us how hard it can be to teach a child not to inherently fear or distrust the "unfamiliar" and "different," or overgeneralize what they hear and see in the media. Parents have the added responsibility to filter the 'noise' while helping their child make sense of the social and political issues being raised by this Presidential campaign and other current events. It is important to children's understanding for adults to explain in developmentally appropriate ways concrete examples of how these issues affect the lives of those around us.
Children have their own thoughts and opinions and want to be able to share them with the trusted adults in their lives. This election is a golden opportunity to talk more about family and personal values in a real-life context. Listen to how children may be thinking about and understanding what they've seen and heard, and model civil discourse . The issues of social justice, and the decisions about how we decide to treat one another in family, in community, and in our society can be lifted up in conversations at your dinner table.
Courageous Conversations
Having a courageous conversation means being direct and saying what you honestly think and feel. Yes, for some of us that takes courage and for all of us that takes being present and attentive in the moment, being a listener as much as a talker and staying curious to what the speaker is saying and feeling. A courageous conversation with children may begin to address each child's questions and comments. Allowing children to listen to adults grapple with the confusing reality of the world we live in, which is permeated with bias and injustice at every turn, provides a model for what it means to be engaged and invested in our community and society. Responding to children's questions and/or fears with curiosity rather than giving a quick answer can help them develop skills to process some of the confusing messages they're hearing. Every presidential election heightens our awareness of the role of politics in our daily lives. Making courageous conversations a regular part of family life provides a safe space and time to address the real issues of concern to each of us and our families.
- From the team at School Readiness Consulting