RSVP!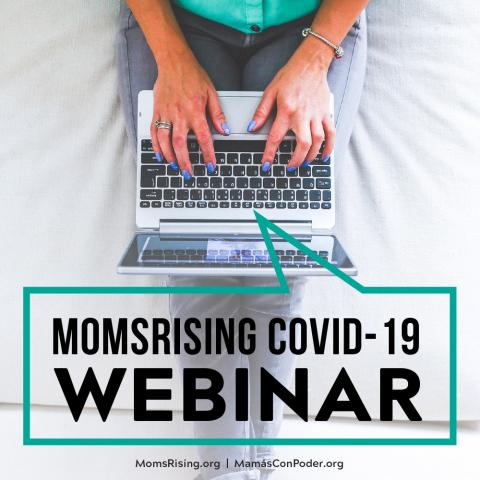 Coronavirus Support Programs: All you Need to Know and How to Apply!
In the past month, the U.S. Congress has passed major pieces of legislation to help address the impact of the coronavirus pandemic that you — or those you know — may be qualified to receive. Included in these policies are massive expansions and updates to unemployment insurance, paid sick days and paid family leave, and nutrition assistance (including SNAP, WIC, and free school meals).
A lot of people have important questions about who can apply for these programs, how to gain access, and where to go for more information. We've got you covered!
***RSVP NOW to our webinar on Tuesday, April 21st at 8pmET/5pmPT to learn about how you can apply to the new coronavirus support programs!
Join MomsRising, along with experts from CLASP, National Employment Law Project (NELP), Food Research and Action Council (FRAC), and National Immigration Law Center, for an online webinar to learn the nuts and bolts about what you need to know to apply for new assistance programs during the COVID-19 pandemic. This is also an opportunity for you to ask any important questions you may have…because these new programs can be complicated and it can be hard to know how to get covered or where to start in the application processes.
Here's more information:
What: Online webinar on what you need to know to access the new COVID-19 programs just passed by Congress, including paid sick days/paid family leave, unemployment insurance, nutrition assistance, and the impacts of these programs on immigrant families.
Who: We'll be joined by the following experts:
Michele Evermore, Senior Policy Analyst at National Employment Law Project (NELP)
Pronita Gupta, Director of Job Quality at CLASP
Crystal Fitzsimmons, Director of School and Out-of-School Time Programs at FRAC
Jackie Vimo, Economic Justice Policy Analyst at National Immigration Law Center
When: Tuesday, April 21 8 pm ET/5 pm PT
Where: Online, from anywhere with a good Internet connection, via Zoom (once you RSVP we'll send you the log-in information)
Languages: We will have live translation in Spanish language too! RSVP and we'll include the Spanish language call-in line in an email.
En Español: Confirme su asistencia en la siguiente página y le enviaremos las instrucciones de cómo unirse al evento.
***Make sure to RSVP now for this important webinar on Tuesday, April 21st! (Even if you're not sure you can attend, RSVP anyway because after the webinar we'll be sending around follow-up information, including a very useful resource guide and the recording of this event). 
*After you RSVP, please make sure to share this post with your friends and family—all are welcome to join us. We know a lot of people have questions about how to access and apply for programs like unemployment insurance, paid sick days and paid leave, and nutrition assistance, so the more the merrier.
You can also post our RSVP link to Facebook, including in any parent groups you might be in so others can access to these new supports too.
We look forward to seeing you on Zoom on April 21st!
P.S. Emergency Paid Leave is now available. Check out our blog post in English and Spanish to find out to learn more, including if you're covered and how to take action.