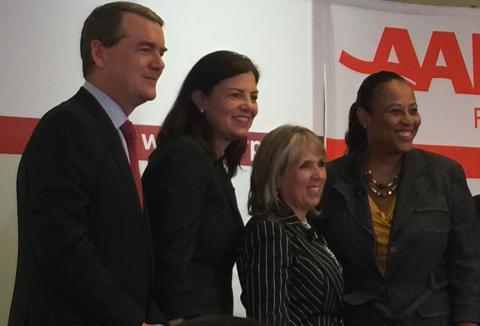 Congress' Year of the Caregiver?
Could 2015 be Congress' Year of the Caregiver?
At an AARP Forum on Family Caregiving in Washington, DC, on July 8, 2015, lawmakers recognized the hard work of caregiving.  They spoke of bills that would provide funds to help millions across the nation in need of caregiving.  The forum was attending by leaders in the employment, health care, and advocacy sectors.
Representative Michelle Lujan Grisham (D-NM), Senator Kelly Ayotte (R-NH) and Senator Michael Bennet (D-CO) spoke on a panel moderated by Washington Post syndicated columnist Michelle Singletary.   Grisham, Ayotte and Bennet, along with Representative Diane Black (R-TN) co-chair the Congressional Assisting Caregivers Today (ACT) Caucus.
Lujan Grisham has introduced a House Bill to create a National Care Corp.  In the spirit of President John F. Kennedy's Peace Corp, Lujan Grisham's Care Corp would mobilize volunteers to care for the elderly and disabled, enabling them to live independently in their own homes.  Care Corp volunteers would receive health benefits and an educational award to be used toward tuition or educational loans.
Ayotte, while Attorney General for the state of New Hampshire, established an elder abuse unit within the Consumer Protection Board.  Ayotte voiced her support for the Recognize, Assist, Include, Support and Engage (RAISE) Family Caregivers Act proposed in the Senate by Tammy Baldwin (D-WI) and Susan Collins (R-ME).
According to Bennet, the issue of family care has been largely ignored, and has not received proper attention.  To the audience, he said, "Thanks for the beginning of your advocacy."  He called for the importance to "mobilize people from all walks of life, across the country."  
With the issue of caregiving as a priority for her term in office, Lujan Grisham states that 43-million Americans provide more than $520-billion in care to seniors and the disabled on a yearly basis.  The percentage of elderly continues to grow, so that by 2030, they will comprise an estimated 72-million, or 19 percent of the US population.   Already vast but under-recognized, issues around the need for caregiving will only grow.
All three lawmakers called for a coordinated national strategy, and increased recognition of this issue.  Indeed, multiple bills are currently introduced in the House and Senate that propose solutions and funding, for the important and growing issue of the need for caregiving.