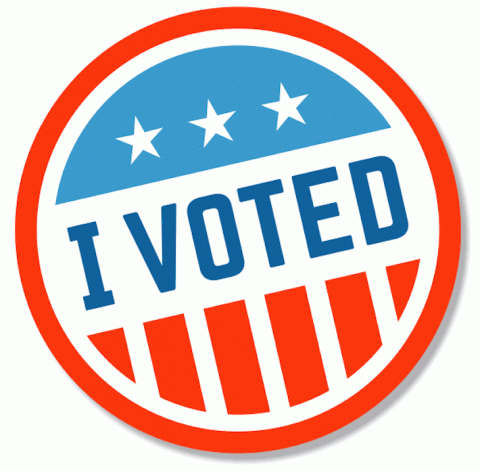 Confession: I Really Love Voting.
Confession: I really, really, REALLY love voting. It's a moment of power when we can imagine a better future for our children -- and then put our marks on a ballot to help make that better future happen. Voters make the future. You can make the future. Quite literally. Voters set the direction, have far-reaching power together, and build our worlds for tomorrow -- and today is VOTING DAY!!!
Hang onto that feeling of power. Use this moment. Together, we can vote for a better future.
Did you vote yet?
If the answer is "No," then stop, drop everything, and VOTE! :) Need information on where and how you can vote in-person, via dropbox, or in another way locally today? Click the link below, type your address, and we'll help you get customized information about exactly how you can vote TODAY:
https://action.momsrising.org/signup/ballotready_vote
If you already voted (and we know MANY of you have!), then consider whether you know anybody who hasn't voted yet and might need this info. Share our voting location info link right now on Facebook or Twitter and/or forward this e-mail to that friend (or two!) who might need a nudge to vote ASAP (Small nudges can make a large difference!). The deadline for voting is the end of the day today, so please spread this info quickly.
Share Voting Information Link on Facebook | Share Voting Information Link on Twitter
This is not a normal year. So we have some special voting tips to super power your ballot casting in the p.s. below! The ways people normally vote have changed. I loved voting in-person with my parents when I was young -- and now live in a vote-by-mail state (where voting by mail has been done safely and effectively for over a decade!). This year I decided to vote early at a dropbox. That moment of marking the boxes on my ballot, putting my envelope in the inner folder, sealing my ballot in the secrecy envelope, signing the outside of the envelope, and then dropping it in the box was a moment of pure joy. Voting is powerful. It's hopeful, fun, and SO IMPORTANT.
But while I did a happy dance (yes I actually did!) dropping my ballot in the dropbox, I didn't get a sticker!
We want to celebrate your vote and our votes together. And virtual "I Voted" stickers are a great way to do just that in a socially distanced, responsible, joyful way. So this year we made our own. We'd like to share it with you, and let you share it with others, just like you might with an "I Voted" sticker that you put on your sweater.
Have you voted? Click the "I Voted" button to get your own virtual "I Voted" sticker that you can share with the world!
If you haven't voted, GO VOTE RIGHT THIS VERY SECOND PLEASE, then come back and get your virtual "I Voted" sticker!. This e-mail will be waiting for you!
Thank you for all you do. Moms across this country are busy lifting democracy -- and the energy of the MomsRising volunteers has been through the roof. In every corner of the country, we're helping others to vote and building a movement for gender justice, racial justice and economic justice; confirming what we've known all along, that moms reaching out to other moms is one of the most powerful forces in the world. I couldn't be more honored to be on the MomsRising Team.
MomsRising volunteers like you have done SO MUCH this election. You've sent millions of handwritten postcards to moms who don't always vote; you're on track to send 20 million mom-to-mom texts by the end of today. You've shared voting info; reached out in English and Spanish to people on social media; participated in phone banks, reaching tens of thousands of people to get out the vote; volunteered in an incredible local Beacon of Hope Adopt-A-Precinct program; and so, so, SO much more.
This movement knows that voting is powerful, and we'll never stop building the future that we believe in where everyone can thrive. So use your voting power today. Get out there. Be strong. Be bold. Be a changemaker. And turn out the vote!
P.S. Here are some important voting tips & resources to super power your ballot casting today:
If you have a vote-by-mail ballot, use our link to find a dropbox near you and then go put your ballot in the dropbox ASAP. There are concerns about regular mail delays on Election Day, so find a dropbox for your ballot and celebrate getting your vote in! *Bonus tip: Read the instructions on your vote-by-mail ballot TWICE to be sure you use the envelope properly. Each state has different vote-by-mail ballot instructions. Here's that link: https://action.momsrising.org/signup/ballotready_vote
If you are voting in-person, use our link to find out where to vote near you and then make sure your voting plan includes some fun: A special voting snack, a facemask, and a fully charged phone. *Bonus tip: If you're going to have to wait in line to vote, make it like a parade to democracy. Bring snacks to share! (Extra Halloween candy, anyone?) Maybe even a fun folding chair & cozy blanket! Play music! Plan ahead to stand in line with friends and family in a socially distanced way -- and be able to hold line spots if people need breaks. Plan for fun! Here's that link: https://action.momsrising.org/signup/ballotready_vote
If you encounter any barriers to voting, there's an election protection helpline for you! 1-866-OUR-VOTE (1-866-687-8683). Don't be shy about calling or texting if you encounter any issues. Your vote is important -- and every vote should be counted.